{"titolo":"Maison & Object September 2015 Paris","testo":"

Maison & Object September 2015 Paris

\r\n

\r\n

As usual…. to see better "click" on the photos!

\r\n

\r\n

This very important fair has its 20th birthday! I have visited it because of my job since 1998 and I could say I was present from its first steps!

\r\n

\r\n

PHOTO2298 PHOTO2297

\r\n

\r\n

Since then I have tried to visit it minimum one time a year. From 1998 to 2000 because my intention was to open a shop; from the end of 2000 to 2013 as a buyer for my shop and from 2014 till today as a journalist to write my articles.

\r\n

This fair is really interesting. According to me it's absolutely to be seen if you work in this field and today more than ever.

\r\n

My remarks are my personal taste oriented. I have followed the companies that reflect my own ideas as if I had had to buy for my former shop. People who knew my shop and know my online magazine now, understand very well what I'm interested in.

\r\n

I have to make a note to all the companies that trade objects and little furniture: they totally underestimate to take care about journalists. They haven't prepared any press releases nor photos and if we ask information, they have no time to dedicate to us. It's a big pity!

\r\n

On the contrary I have to say a big THANK YOU to the fair Paris that made us wear a yellow ribbon with print "press" on it. This lets us work easily and quiet, without problems.

\r\n

If I make a comparison with the Salone del Mobile in Milan, the professionalism of the companies is completely different there. Once they have your business card, they send you press releases and news of the company.

\r\n\r\n

My opinions:

\r\n

"Pomax": it has a very bright new stand and a very modern collection. My compliments!

\r\n

"Côté table": it keeps its traditional items that I have always loved. But it has inserted a really up-to-date offer in its new collection.

\r\n

"Riviera Maison": it's back to Paris with a more little stand but with a very beautiful collection. Its style is very cozy and recognizable.

\r\n

"Bloomingville": its stand is more little comparing it with the stand in "Ambiente" Frankfurt. Together with other Northern companies like "House Doctor" or "Hübsch" they represent the taste of the moment: northern style, young, color but not too much, furniture in the 50ties style, easy. To whom that doesn't know this companies I suggest to have a look!

\r\n

"Nordal": it has dissatisfied me this year unfortunately. The stand looks empty and I haven't seen many news. Let's await next season!

\r\n

"IB Larsen": it's a Danish company that presents a more country northern style. I like it a lot! Its items are very "warm", full of atmosphere, with the colors of the past and when we put them in our houses, we get a warm and cozy feeling!

\r\n

"Baden-Import": a company whose products I put in my shop in 2003 with a lot of doubts from my husband. I have to say that its new collection is adorable with many decorations made of matted wool. A MUST HAVE of its items are the guardian angels in a lot of different versions. Have a look!

\r\n

"Pieter Porters": a very elegant classic style. The stand lets you dream in music and scented candles. A Pieter Porters moves around you with his famous hat. I have loved it for many years and I have bought all his books to catch his ideas.

\r\n

"BLANC D'IVOIRE": a company that has completely changed its style. It looks like they have a new owner or a new designer. Honestly if I had chosen to change the collection, I wouldn't have done it so drastically. The presentation was very new, not bad, but too different from the previous years.

\r\n

"Flamant": an incredible big stand where it presents its collection in an ambience that really looks like the rooms in your house. Clients can perfectly understand the effect of their house furnished with Flamant. In my former shop I have imitated this kind of presentation many times. I love this company, I have said it so many times in my blog talking about different trade shows. Its style is always "up-to-date" and in the same time it keeps its traditional look and products. This gives me the possibility to help my clients after many years as well, if they have to set up something.

\r\n

"SID DICKENS": it has kept my attention because of a dragonfly that I saw among its products! Sid Dickens is Canadian. He attended the Artistic Academy Emily Carr of Vancouver and the Allende Institute in Messico. The first prototype of the Memory Blocks appeared in 1991. Every piece has a particular meaning and can have personal interpretations. His objects remind past emotions. His works are known all over the world and his collections are exhibited in New York and Tokyo. But the dragonfly that caught immediately my attention has its own story: 25 % of its benefit is given as charity to support breast cancer research. In 2014 the company collected 25.000 Dollars!!!

\r\n

Generally I had to say that I have missed Christmas decorations. I expected to find more and new ones. Who knows me, knows as well that I love Christmas a lot. It's normal that I was looking for new ideas to decorate houses for this special time! If you are not interested in traditional items, you can have a look to "Goodwill". This company has been present in Paris and Frankfurt since I went to the fair (1998) and it is still there!

\r\n

I have talked about some companies I visited, but if you like to see more by yourself, have a look at their websites, I've written the links!!

\r\n

This time I have chosen a video to show my impressions to you and I hope you will feel as if you have walked with me at the fair. I hope you'll love it! And if you do, give me a "like"!!! Thanks in advance!

\r\n

\r\n

\r\n

","abstract":"This very important fair has its 20th birthday! According to me it's absolutely to be seen if you work in this field and today more than ever."}
-
2015-12-17 17:23:33
on
no
117
Maison & Object September 2015 Paris
As usual…. to see better "click" on the photos!
This very important fair has its 20th birthday! I have visited it because of my job since 1998 and I could say I was present from its first steps!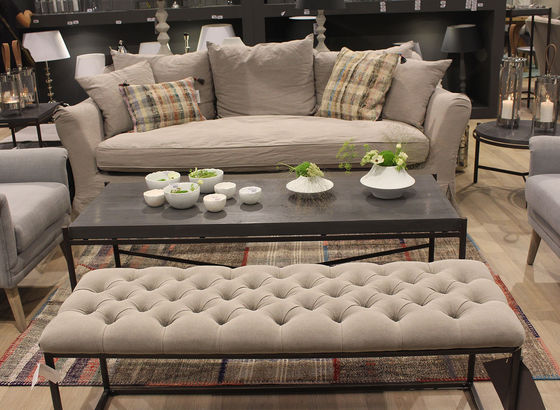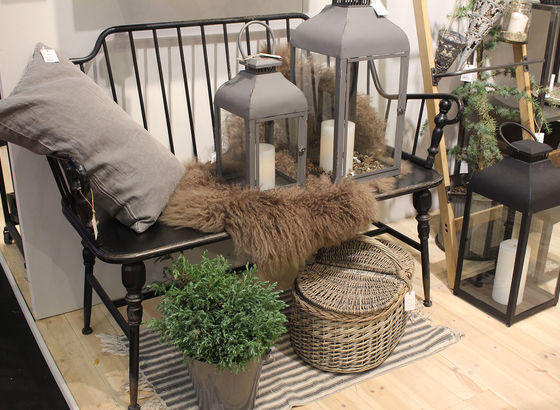 Since then I have tried to visit it minimum one time a year. From 1998 to 2000 because my intention was to open a shop; from the end of 2000 to 2013 as a buyer for my shop and from 2014 till today as a journalist to write my articles.
This fair is really interesting. According to me it's absolutely to be seen if you work in this field and today more than ever.
My remarks are my personal taste oriented. I have followed the companies that reflect my own ideas as if I had had to buy for my former shop. People who knew my shop and know my online magazine now, understand very well what I'm interested in.
I have to make a note to all the companies that trade objects and little furniture: they totally underestimate to take care about journalists. They haven't prepared any press releases nor photos and if we ask information, they have no time to dedicate to us. It's a big pity!
On the contrary I have to say a big THANK YOU to the fair Paris that made us wear a yellow ribbon with print "press" on it. This lets us work easily and quiet, without problems.
If I make a comparison with the Salone del Mobile in Milan, the professionalism of the companies is completely different there. Once they have your business card, they send you press releases and news of the company.
My opinions:
"Pomax": it has a very bright new stand and a very modern collection. My compliments!
"Côté table": it keeps its traditional items that I have always loved. But it has inserted a really up-to-date offer in its new collection.
"Riviera Maison": it's back to Paris with a more little stand but with a very beautiful collection. Its style is very cozy and recognizable.
"Bloomingville": its stand is more little comparing it with the stand in "Ambiente" Frankfurt. Together with other Northern companies like "House Doctor" or "Hübsch" they represent the taste of the moment: northern style, young, color but not too much, furniture in the 50ties style, easy. To whom that doesn't know this companies I suggest to have a look!
"Nordal": it has dissatisfied me this year unfortunately. The stand looks empty and I haven't seen many news. Let's await next season!
"IB Larsen": it's a Danish company that presents a more country northern style. I like it a lot! Its items are very "warm", full of atmosphere, with the colors of the past and when we put them in our houses, we get a warm and cozy feeling!
"Baden-Import": a company whose products I put in my shop in 2003 with a lot of doubts from my husband. I have to say that its new collection is adorable with many decorations made of matted wool. A MUST HAVE of its items are the guardian angels in a lot of different versions. Have a look!
"Pieter Porters": a very elegant classic style. The stand lets you dream in music and scented candles. A Pieter Porters moves around you with his famous hat. I have loved it for many years and I have bought all his books to catch his ideas.
"BLANC D'IVOIRE": a company that has completely changed its style. It looks like they have a new owner or a new designer. Honestly if I had chosen to change the collection, I wouldn't have done it so drastically. The presentation was very new, not bad, but too different from the previous years.
"Flamant": an incredible big stand where it presents its collection in an ambience that really looks like the rooms in your house. Clients can perfectly understand the effect of their house furnished with Flamant. In my former shop I have imitated this kind of presentation many times. I love this company, I have said it so many times in my blog talking about different trade shows. Its style is always "up-to-date" and in the same time it keeps its traditional look and products. This gives me the possibility to help my clients after many years as well, if they have to set up something.
"SID DICKENS": it has kept my attention because of a dragonfly that I saw among its products! Sid Dickens is Canadian. He attended the Artistic Academy Emily Carr of Vancouver and the Allende Institute in Messico. The first prototype of the Memory Blocks appeared in 1991. Every piece has a particular meaning and can have personal interpretations. His objects remind past emotions. His works are known all over the world and his collections are exhibited in New York and Tokyo. But the dragonfly that caught immediately my attention has its own story: 25 % of its benefit is given as charity to support breast cancer research. In 2014 the company collected 25.000 Dollars!!!
Generally I had to say that I have missed Christmas decorations. I expected to find more and new ones. Who knows me, knows as well that I love Christmas a lot. It's normal that I was looking for new ideas to decorate houses for this special time! If you are not interested in traditional items, you can have a look to "Goodwill". This company has been present in Paris and Frankfurt since I went to the fair (1998) and it is still there!
I have talked about some companies I visited, but if you like to see more by yourself, have a look at their websites, I've written the links!!
This time I have chosen a video to show my impressions to you and I hope you will feel as if you have walked with me at the fair. I hope you'll love it! And if you do, give me a "like"!!! Thanks in advance!
2298
blog
64
This very important fair has its 20th birthday! According to me it's absolutely to be seen if you work in this field and today more than ever.
6
2015-09-10
Maison & Object September 2015 Paris