162
2016-04-21
2593
blog
{"abstract":"In general: the great come back of marble, of sorbet colors like in the fifties but with a touch of grey which makes them softer...","testo":"

Salone del Mobile, Milan 2016

\r\n

\r\n

As usual…. to see better "click" on the photos and watch the video at the end of the article!


\r\n

\r\n

\r\n

In general: the great come back of marble, of sorbet colors like in the fifties but with a touch of grey which makes them softer, armchairs that hug you like in the seventies, beds that seem to come out of old Hollywood film sets, modern gets cozier, big sofas that are like comfortable islands in the center of the living room. You can see it very well in the Rochebobois's version who has created a real room with "puzzle" mattresses.

\r\n

I know that this article is longer than usual but I believe that people who are interested in this fair want to know the news and the trends.

\r\n

Cattelan

\r\n

I have to say that I like a lot this company even if modern is not exactly my world. It mixes modern with cozy very well. I enjoyed a lot the tour that the press responsible let me have to show all the news and their peculiarities.

\r\n

Cattelan Italia table tops have always been at the cutting edge of experimentation: utterly irresistible, the innovative Calacatta and Alabastro ceramic finishes are extremely hard, light, and resistant to high temperatures and have an easy-care scratchproof surface. Another new product is Ardesia, a stoneware finish coupled with clear glass which is incredibly resistant to bowing, fire and knocks. A new finish for the bases is Titanio, which reflects light across the surfaces in an exciting new way.

\r\n

\r\n

PHOTO2594 PHOTO2595

\r\n

\r\n


The Gordon table, designed by Giorgio Cattelan, offers intersecting geometric lines that seem to move almost chaotically yet order and design actually create perfect symmetry. This interplay is further accentuated in the round version in which you can make out the shape of a three-dimensional star when looking down on the table.

\r\n

\r\n

\r\n

PHOTO2590 PHOTO2591

\r\n

\r\n


Rigid polyurethane is added to the choice of finishes for the chairs. It is used for the Indy chair (designed by Archirivolto) that offers a selection of six different fixed or swivel bases in graphite, white or black embossed lacquered steel, beechwood with a black walnut stain, burnt oak or a matt black lacquered aluminium five-spoke version with castors. The chair offers the same comfort as a small armchair with soft lines and a unique wave effect, produced by the graphic design on the back, which is perfect for furnishing modern and underground interiors.

\r\n

\r\n

PHOTO2592 PHOTO2593

\r\n

\r\n


Giorgio Cattelan has created simple, essential geometry for the Hudson bookcase, whose design is dictated by the (white, black or graphite embossed) lacquered steel sections that support the wooden shelves (white or graphite black walnut) or burnt oak. An ideal addition for urban chic interiors, the Hudson bookcase can also be used to divide areas in an open-plan space as well as more classic living solutions.

\r\n

\r\n

PHOTO2596 PHOTO2597

\r\n

\r\n


Cattelan Italia has added exceedingly charming pieces to the bedroom range, such as the Amadeus bed, by Manzoni&Tapinassi, with a real vintage feel reminiscent of Seventies furnishings. The bed is pure design defined by just a few geometric lines with rounded corners, leather upholstery and lacquered steel feet. This bed looks fabulous matched with the Dante nightstand (designed by Andrea Lucatello) with a (graphite or white embossed lacquered) steel base, geometric and essential graphite or white embossed lacquered top, and a sliding black walnut or burnt oak door.

\r\n

\r\n

PHOTO2598 PHOTO2599

\r\n

\r\n


The Edward bed (designed by Gino Carollo) is packed with character; it has a large headboard with sharp corners and black walnut or burnt oak trim, symmetric polygonal padded sections and is completely covered with eco-leather or leather (the liftable slat design with storage is optional). Very stylish paired with a nightstand with pure lines and classic forms, such as Ciro (designed by Paolo Cattelan) with two drawers which is also available as a chest of drawers with either four or eight drawers with the frame and front panels in graphite or white embossed wood or black walnut or burnt oak.

\r\n

ARKETIPO
Also here we don't have to talk about quality!

\r\n


Dining Table ORACLE – Design Gino Carollo
Distinguishing marks: sophisticated originality and design. The new dining table ORACLE by Gino Carollo is the expression of circular geometric shape, a symbol of perfection. A furniture piece whose shape expresses totality and centrality.

\r\n


Lamp BUG
The BUG lamp by Gino Carollo reflects the communicative power of geometric forms. Different structures such as the circle, straight line and cone convey harmony and balance. Technology and design for a functional and innovative item that furnishes with elegance.

\r\n

\r\n

PHOTO2600 PHOTO2601

\r\n

\r\n


Dinning Table EPSILON – Manzoni & Tapinassi
The charm of architecture combined with modern design. The dining table EPSILON by Manzoni & Tapinassi is a structure that links these two worlds. The base, with a specific graphic sign and the blunt top, enriched by a play of metal and wood, are its distinguishing features. The result is an item with a strong dynamic personality.

\r\n


Sofa MOSS – Giuseppe Vigano
Minimalist characteristics and sophisticated immediacy are the main features of the elegant Moss sofa. The single seat in expanded polyurethane of various densities rests on a thin and linear base that accentuates its shape. The visual result is a reassuring sensation of daily comfort with attention to the minimalist details.
Light piping runs around the perimeter of the body and cushions. A tailoring detail that makes the sofa precious and sophisticated.

\r\n

\r\n

PHOTO2602 PHOTO2603

\r\n

\r\n


Armchair ROXY
An eclectic armchair with sinuous and Junoesque shape, characterized by a cover that alternates pinch-quilted upholstery with quilted parts. A refined and unusual design for an original accessory. It is suitable for any environment.

\r\n


Bed CRAZY DREAM
The Crazy Dream bed, inspired by the sofa of the same line, is supplied with an adjustable
headboard that allows great comfort and elegant multifunctionality. The pillow can be hidden behind the headboard. The soft wrinkles of the headboard profile are a decorative feature. Brand new details for a soft-chic bed.

\r\n


Sideboard AURA
Clean and rigorous forms characterize the sideboard Aura. A play of pure and geometric inspiration that interact with each other to create a design item with an original and refined style. The featured top is made of marble or of acid etched glass, underside varnished in grey- brown and it is enveloped by a metal tube, available in micaceous brown, brass or titanium. The visual effect is an image with a rich and determined personality.

\r\n

\r\n

PHOTO2605 PHOTO2606

\r\n

\r\n


Sofa ATLAS – Mauro Lipparini
Stylistic and aesthetic inspirations are at the heart of the Atlas sofa. A design with interplanetary force in which diversity becomes an added value. Shapes and forms meet each other and are combined in an imaginary space creating a setting in which thin and thick arms, high and low backs, corner units, chaise-longues and accessories blend together. The result is a multiple architectonic image with a cosmopolitan style that responds to the most complex requirements. Atlas expresses freedom without compromise.

\r\n


Sideboard ENDOR
The Endor sideboard is characterized by an independent and precise graphic design, like a desert Island. Thanks to its versatile structure and the open shelves, it can be placed along the wall or in the middle of the room. The doors are covered with Leonardo leather and the structure is available in Mocha Oak, Sucupira or Ebony.

\r\n


ENDOR Shelf
A series of wooden shelves that allows the wall to be furnished in a personalized way. The modern and minimal design allows you to combine them with other accessories such as a sideboard, console or side tables of the same line.

\r\n


Small table LITH
The small Lith tables are attractive for their form: soft and rigid components, unusually opposed, live together conveying a harmonious and cosmopolitan style. They can be placed in the room like small planets.

\r\n


Small table AKA
A series of small tables with a clean geometric form. Ideal for the living area, they look like space platforms and furnish it with glamorous style.

\r\n


Accessories ELAS
The micaceous brown or black nickel finishes are combined with wood in different ways and this interaction stresses the details and well defined geometric forms of these accessories. This union of materials create multi-material items that express elegance, functionality and versatility. Small galaxies to be placed in various arrangements: the console can be placed along the wall or next to the sofa, whilst the small table can be used as side table next to the sofa arm or as service table.

\r\n


Small Table NOTH
A series of small tables to furnish the living area with functionality and style. The open spaces and the geometric design make their use in the centre of the room or next to the sofa easier.

\r\n

Clei
The multiplication of space is a fundamental quality of transformable furniture, but its value is defined not by this but by the way it achieves its end result.

\r\n

\r\n

PHOTO2607 PHOTO2608

\r\n


Quality is measured by safety, longevity, reliability and compositional flexibility. These are the individual factors that give authentic value to the quality of a product, because they are the tangible results of research and technological innovation.

\r\n

\r\n

PHOTO2609 PHOTO2610

\r\n

\r\n


Bookcases, storage, sofas, tables and desks come together in integrated, shared spaces; daytime furniture becomes night-time furniture with simplicity and speed, with comfy beds in a range of different dimensions always within reach.

\r\n


Another remark here: Teak is coming back and you can see it very well at the company UNOPIU'. The outdoor furniture is getting more and more elegant and you find it very difficult to understand if it is designed to stay outside or inside. They are a sort of living room moved to the garden.

\r\n

UNOPIU'
The new Tweed collection, with a strong and contemporary impact and an amazing design, resulting in an unexpected yet timeless combination of essences and alloys like teak and steel. The outdoor/indoor fusion has become definitive with Tweed;

\r\n


The Cosette armchair/deckchair, ideal for seaside, garden and swimming pool, reinterprets tradition to perfection in true Unopiù style, using materials of excellence like teak and outdoor techno fabric together with stainless steel hardware;

\r\n

\r\n

\r\n

PHOTO2611 PHOTO2615

\r\n

PHOTO2613 PHOTO2614

\r\n

\r\n


Additions to two existing and commercially successful lines like Panarea and Sunstripe. Panarea is in aluminium and soft techno fabric which perfectly suits our contract, adding a new deckchair to match the sunlounger and Sunstripe is a comfortable seating collection in dove grey synthetic fibre which is enhanced by the addition of an inviting sunlounger.

\r\n


Among the interesting new outdoor tendencies on the one hand is the wide range of cushions in different weights and finishes, offering infinite esthetic solutions to make your home ever more personal, exclusive and welcoming. On the other hand is the masterly mix of excellent materials, an ideal fusion of elegance and taste that goes beyond simple outdoor use.

\r\n


FLEXOFORM

\r\n

Codice-Relax is the concept that guides FLEXFORM in its approach to the Salone Internazionale del Mobile 2016 in Milan. It reflects a trend that fits perfectly with the FLEXFORM style, with its focus on comfort and elegance. To slow things down, to transform the home into a relaxing, reassuring place - to turn a house into a home – represents FLEXFORM's promise to those who choose its products. The theme of Codice-Relax has gained momentum in a recent editorial by Giusi Ferré – trend-fashion editor – who during the recent fashion shows in Milan entitled her remarks \"The radical culture of comfort in beauty." Codice-Relax also in the choice of neutral, delicate colors, like those selected by Pantone as the hues of the year: powder blue, cipria. When the theme of Relaxation is combined with that of the intrinsic Beauty of FLEXFORM products, totally Thought&Made in Italy, the house is transformed into a welcoming "nesting refuge."

\r\n

\r\n

PHOTO2616 PHOTO2617

\r\n

\r\n

15 years of the GROUNDPIECE Sofa

\r\n

Much of the recent history of FLEXFORM began in 2001, when the architect Antonio Citterio designed the GROUNDPIECE sofa, now celebrating its 15th birthday.

\r\n


A unchallenged bestseller of all of FLEXFORM's production, GROUNDPIECE has revolutionized our way of thinking about sofas, introducing new proportions and usage modes. It is comfortably deep, particularly low, and originally deconstructed with large goosedown cushions. GROUNDPIECE has changed our way of sitting on a sofa, making it less formal, lending itself to new functions. It is based on an awareness that people behave in new ways. This is why low storage elements covered in cowhide can be inserted in the structure, replacing part of the back or the armrest, offering useful surfaces on which to place objects.

\r\n\r\n


The rather passé decorum of formal seating is swept away by Groundpiece, in favor of a more comfortable, relaxed sitting position. Groundpiece is the success story of a clean break with clichés.

\r\n

\r\n

\r\n

PHOTO2618 PHOTO2619

\r\n

\r\n

The Flexform MOOD Collection 2016 presented at the Salone del Mobile features new models and expansions of existing product lines. All the new items are by the architect Roberto Lazzeroni.

\r\n

Walter Knoll

\r\n

Walter Knoll is presenting twelve new products and extensions to the range for 2016 in Milan. Including rediscovered classics of mid-century modernity and design icons by artist Sadi Ozis, co-founder of modernity in Turkey in the 1950s. A tribute to craftsmanship and material: the new sofa and new armchair in the Isanka range. The collection is extended by innovative chairs and tables for elegant dining.

\r\n

These items are complemented by the Saddle Chair barstool, being shown for the first time by Walter Knoll in Milan. An example of precise craftsmanship, classically austere but at the same time exceptionally comfortable – the legendary chair made of saddle leather.

\r\n

\r\n

PHOTO2620 PHOTO2621

\r\n

\r\n

New fabrics and leathers extend the Walter Knoll philosophy of \"Natural Elegance\". New fabric \"Anni\" is a tribute to the Bauhaus and fabric artist Anni Albers. This special fabric, soft wool featuring brilliant threads of metallic yarn, was developed by Walter Knoll together with fabric designer Helmut Scheufele and the former hand weaving mill Maute, taking inspiration from the design language of the living culture of the fifties.

\r\n

The leather \"Paco\" – similar to saddle leather – is the perfect extension to the collection when it comes to frequent and challenging use. Its robustness and the fact that it is easy to clean also render it perfect for use on office premises.

\r\n

Significant, inspiring and bigger than ever before: Walter Knoll is presenting its innovations on over 600 square metres in Milan. Once again, the stand was created in collaboration with the Identity Architects Ippolito Fleitz Group – most recently honoured with its inclusion in the \"Hall of Fame\" of the American magazine "Interior Design". In December 2015, the Stuttgart-based agency was the first German interior design company ever to be awarded the coveted award, in existence for 31 years now, in New York. The studio thus takes its place in the list of great designers alongside the likes of Warren Platner, Patricia Urquiola and Shigeru Ban.

\r\n

Kitchens

\r\n

Technology don't stay out of the kitchen either! Computers on cookers that keep in mind what you have in your fridge and suggest you what you can cook with that. They even remind you to wash your hands before cooking.

\r\n

I have seen that the most of the kitchens have a big island centrepiece where you can find the electric cooker and the sink. Very special working place can be moved on guide rails to create a table and other working places. When you close them you don't realize that you are in the kitchen, but you think to be in the living room!

\r\n

Another peculiarity of the kitchens are the cupboards with double closing. Inside you can find place for your kitchenAid or other electro-domestics and if you close the door everything is clean and perfect in one second!

\r\n

Bosh has created flames where you can regulate the heat very well.

\r\n

The Salone del Mobile in Milan is an international fair and for me it's the most successful exhibition organised in this town!

\r\n

\r\n

\r\n

","titolo":"Salone del Mobile, Milan 2016"}
2016-05-03 17:21:26
1
-
In general: the great come back of marble, of sorbet colors like in the fifties but with a touch of grey which makes them softer...
Salone del Mobile, Milan 2016
As usual…. to see better "click" on the photos and watch the video at the end of the article!

In general: the great come back of marble, of sorbet colors like in the fifties but with a touch of grey which makes them softer, armchairs that hug you like in the seventies, beds that seem to come out of old Hollywood film sets, modern gets cozier, big sofas that are like comfortable islands in the center of the living room. You can see it very well in the Rochebobois's version who has created a real room with "puzzle" mattresses.
I know that this article is longer than usual but I believe that people who are interested in this fair want to know the news and the trends.
Cattelan
I have to say that I like a lot this company even if modern is not exactly my world. It mixes modern with cozy very well. I enjoyed a lot the tour that the press responsible let me have to show all the news and their peculiarities.
Cattelan Italia table tops have always been at the cutting edge of experimentation: utterly irresistible, the innovative Calacatta and Alabastro ceramic finishes are extremely hard, light, and resistant to high temperatures and have an easy-care scratchproof surface. Another new product is Ardesia, a stoneware finish coupled with clear glass which is incredibly resistant to bowing, fire and knocks. A new finish for the bases is Titanio, which reflects light across the surfaces in an exciting new way.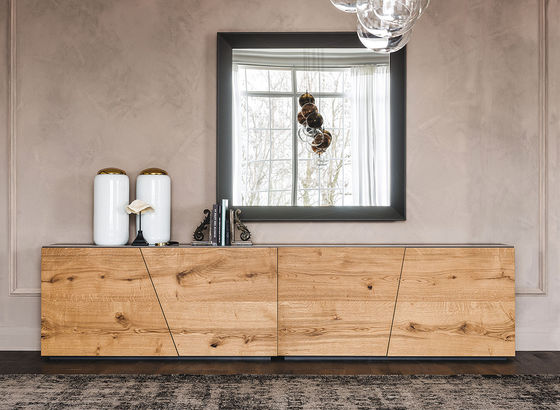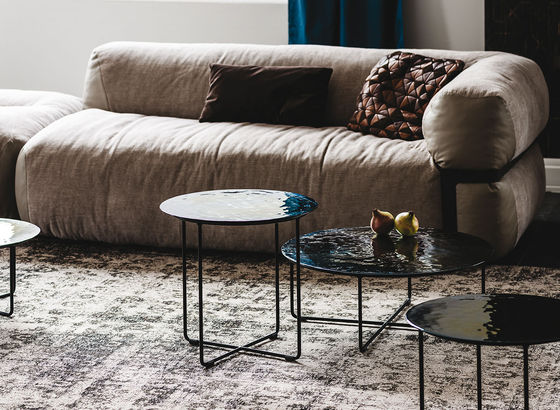 The Gordon table, designed by Giorgio Cattelan, offers intersecting geometric lines that seem to move almost chaotically yet order and design actually create perfect symmetry. This interplay is further accentuated in the round version in which you can make out the shape of a three-dimensional star when looking down on the table.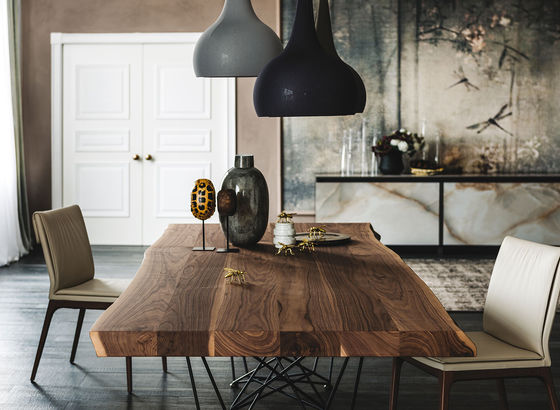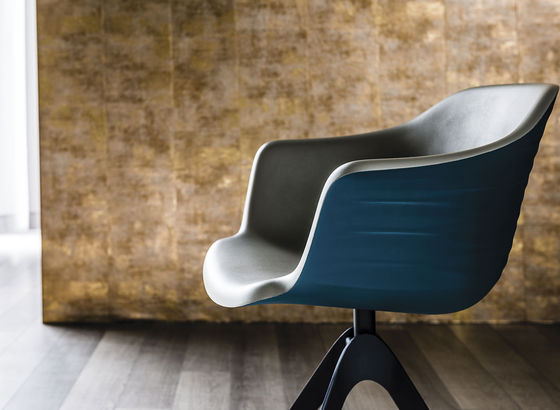 Rigid polyurethane is added to the choice of finishes for the chairs. It is used for the Indy chair (designed by Archirivolto) that offers a selection of six different fixed or swivel bases in graphite, white or black embossed lacquered steel, beechwood with a black walnut stain, burnt oak or a matt black lacquered aluminium five-spoke version with castors. The chair offers the same comfort as a small armchair with soft lines and a unique wave effect, produced by the graphic design on the back, which is perfect for furnishing modern and underground interiors.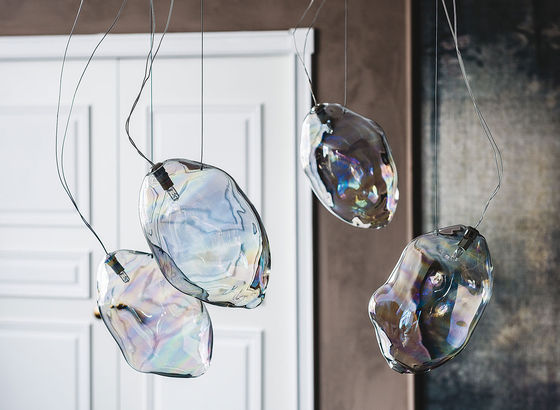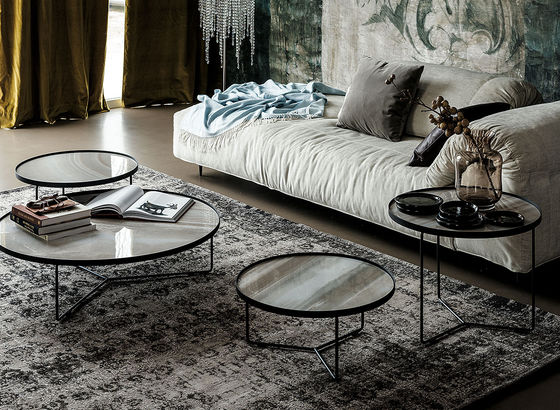 Giorgio Cattelan has created simple, essential geometry for the Hudson bookcase, whose design is dictated by the (white, black or graphite embossed) lacquered steel sections that support the wooden shelves (white or graphite black walnut) or burnt oak. An ideal addition for urban chic interiors, the Hudson bookcase can also be used to divide areas in an open-plan space as well as more classic living solutions.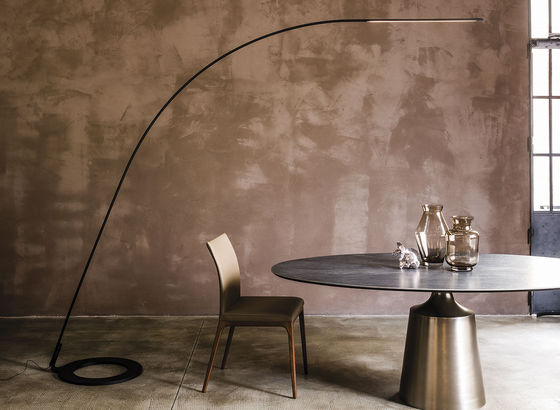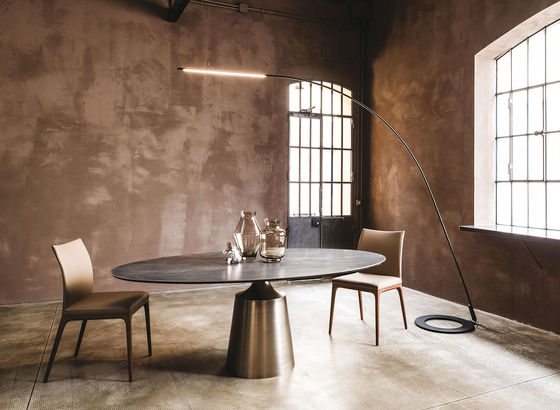 Cattelan Italia has added exceedingly charming pieces to the bedroom range, such as the Amadeus bed, by Manzoni&Tapinassi, with a real vintage feel reminiscent of Seventies furnishings. The bed is pure design defined by just a few geometric lines with rounded corners, leather upholstery and lacquered steel feet. This bed looks fabulous matched with the Dante nightstand (designed by Andrea Lucatello) with a (graphite or white embossed lacquered) steel base, geometric and essential graphite or white embossed lacquered top, and a sliding black walnut or burnt oak door.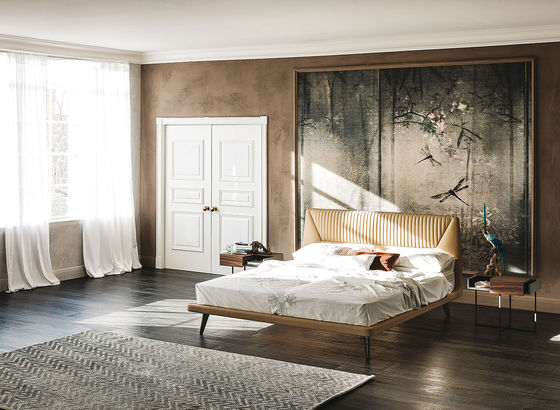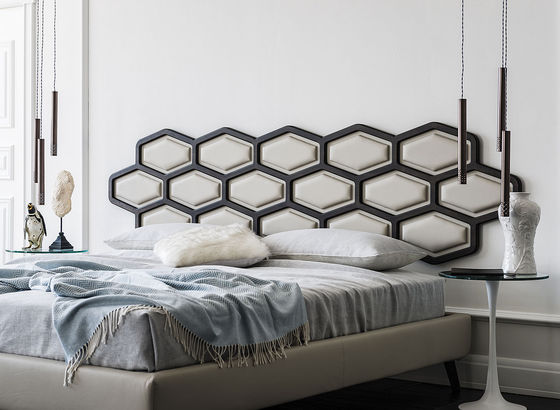 The Edward bed (designed by Gino Carollo) is packed with character; it has a large headboard with sharp corners and black walnut or burnt oak trim, symmetric polygonal padded sections and is completely covered with eco-leather or leather (the liftable slat design with storage is optional). Very stylish paired with a nightstand with pure lines and classic forms, such as Ciro (designed by Paolo Cattelan) with two drawers which is also available as a chest of drawers with either four or eight drawers with the frame and front panels in graphite or white embossed wood or black walnut or burnt oak.
ARKETIPO
Also here we don't have to talk about quality!

Dining Table ORACLE – Design Gino Carollo
Distinguishing marks: sophisticated originality and design. The new dining table ORACLE by Gino Carollo is the expression of circular geometric shape, a symbol of perfection. A furniture piece whose shape expresses totality and centrality.

Lamp BUG
The BUG lamp by Gino Carollo reflects the communicative power of geometric forms. Different structures such as the circle, straight line and cone convey harmony and balance. Technology and design for a functional and innovative item that furnishes with elegance.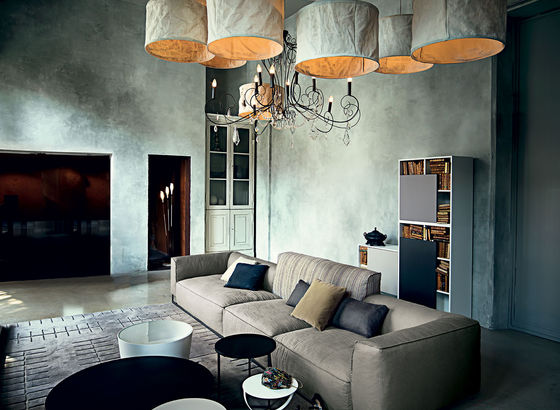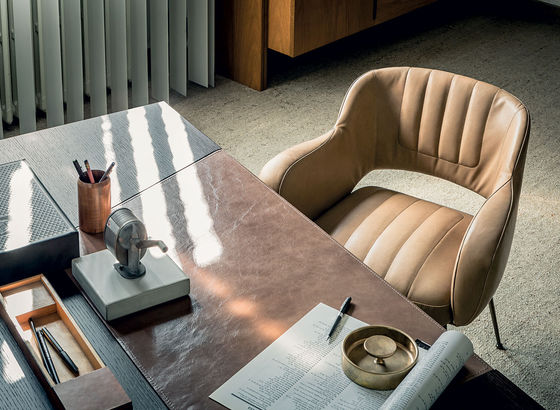 Dinning Table EPSILON – Manzoni & Tapinassi
The charm of architecture combined with modern design. The dining table EPSILON by Manzoni & Tapinassi is a structure that links these two worlds. The base, with a specific graphic sign and the blunt top, enriched by a play of metal and wood, are its distinguishing features. The result is an item with a strong dynamic personality.

Sofa MOSS – Giuseppe Vigano
Minimalist characteristics and sophisticated immediacy are the main features of the elegant Moss sofa. The single seat in expanded polyurethane of various densities rests on a thin and linear base that accentuates its shape. The visual result is a reassuring sensation of daily comfort with attention to the minimalist details.
Light piping runs around the perimeter of the body and cushions. A tailoring detail that makes the sofa precious and sophisticated.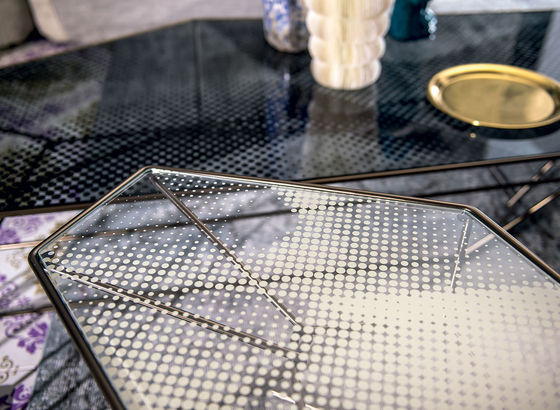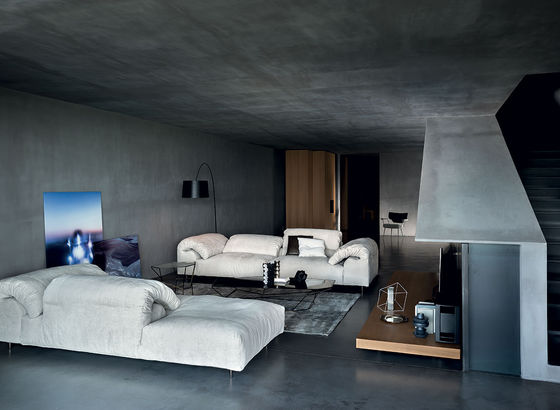 Armchair ROXY
An eclectic armchair with sinuous and Junoesque shape, characterized by a cover that alternates pinch-quilted upholstery with quilted parts. A refined and unusual design for an original accessory. It is suitable for any environment.

Bed CRAZY DREAM
The Crazy Dream bed, inspired by the sofa of the same line, is supplied with an adjustable
headboard that allows great comfort and elegant multifunctionality. The pillow can be hidden behind the headboard. The soft wrinkles of the headboard profile are a decorative feature. Brand new details for a soft-chic bed.

Sideboard AURA
Clean and rigorous forms characterize the sideboard Aura. A play of pure and geometric inspiration that interact with each other to create a design item with an original and refined style. The featured top is made of marble or of acid etched glass, underside varnished in grey- brown and it is enveloped by a metal tube, available in micaceous brown, brass or titanium. The visual effect is an image with a rich and determined personality.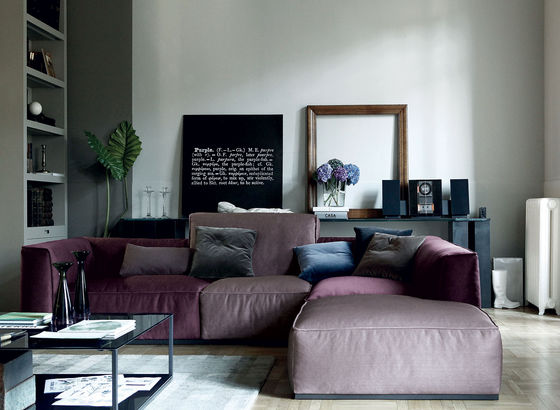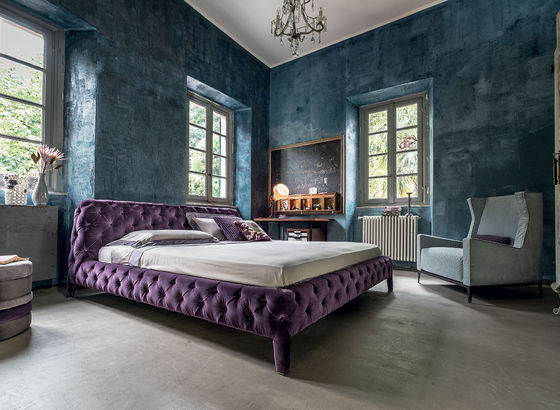 Sofa ATLAS – Mauro Lipparini
Stylistic and aesthetic inspirations are at the heart of the Atlas sofa. A design with interplanetary force in which diversity becomes an added value. Shapes and forms meet each other and are combined in an imaginary space creating a setting in which thin and thick arms, high and low backs, corner units, chaise-longues and accessories blend together. The result is a multiple architectonic image with a cosmopolitan style that responds to the most complex requirements. Atlas expresses freedom without compromise.

Sideboard ENDOR
The Endor sideboard is characterized by an independent and precise graphic design, like a desert Island. Thanks to its versatile structure and the open shelves, it can be placed along the wall or in the middle of the room. The doors are covered with Leonardo leather and the structure is available in Mocha Oak, Sucupira or Ebony.

ENDOR Shelf
A series of wooden shelves that allows the wall to be furnished in a personalized way. The modern and minimal design allows you to combine them with other accessories such as a sideboard, console or side tables of the same line.

Small table LITH
The small Lith tables are attractive for their form: soft and rigid components, unusually opposed, live together conveying a harmonious and cosmopolitan style. They can be placed in the room like small planets.

Small table AKA
A series of small tables with a clean geometric form. Ideal for the living area, they look like space platforms and furnish it with glamorous style.

Accessories ELAS
The micaceous brown or black nickel finishes are combined with wood in different ways and this interaction stresses the details and well defined geometric forms of these accessories. This union of materials create multi-material items that express elegance, functionality and versatility. Small galaxies to be placed in various arrangements: the console can be placed along the wall or next to the sofa, whilst the small table can be used as side table next to the sofa arm or as service table.

Small Table NOTH
A series of small tables to furnish the living area with functionality and style. The open spaces and the geometric design make their use in the centre of the room or next to the sofa easier.
Clei
The multiplication of space is a fundamental quality of transformable furniture, but its value is defined not by this but by the way it achieves its end result.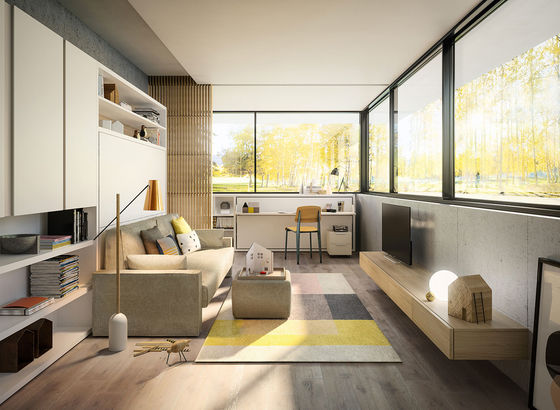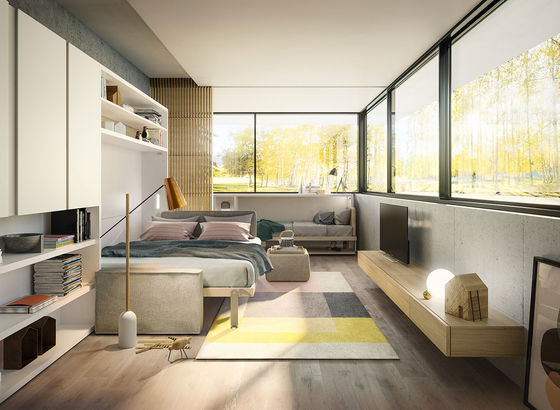 Quality is measured by safety, longevity, reliability and compositional flexibility. These are the individual factors that give authentic value to the quality of a product, because they are the tangible results of research and technological innovation.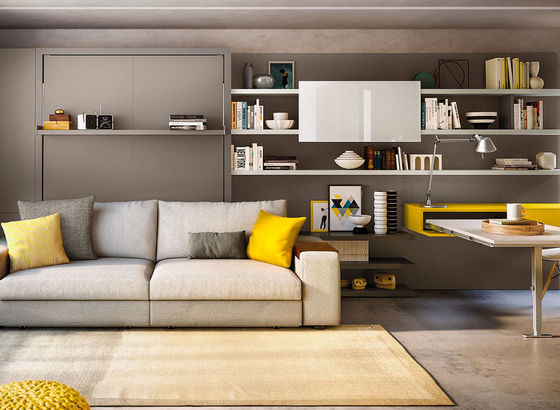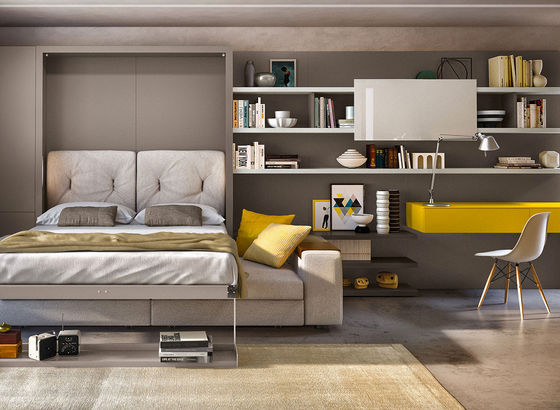 Bookcases, storage, sofas, tables and desks come together in integrated, shared spaces; daytime furniture becomes night-time furniture with simplicity and speed, with comfy beds in a range of different dimensions always within reach.

Another remark here: Teak is coming back and you can see it very well at the company UNOPIU'. The outdoor furniture is getting more and more elegant and you find it very difficult to understand if it is designed to stay outside or inside. They are a sort of living room moved to the garden.
UNOPIU'
The new Tweed collection, with a strong and contemporary impact and an amazing design, resulting in an unexpected yet timeless combination of essences and alloys like teak and steel. The outdoor/indoor fusion has become definitive with Tweed;

The Cosette armchair/deckchair, ideal for seaside, garden and swimming pool, reinterprets tradition to perfection in true Unopiù style, using materials of excellence like teak and outdoor techno fabric together with stainless steel hardware;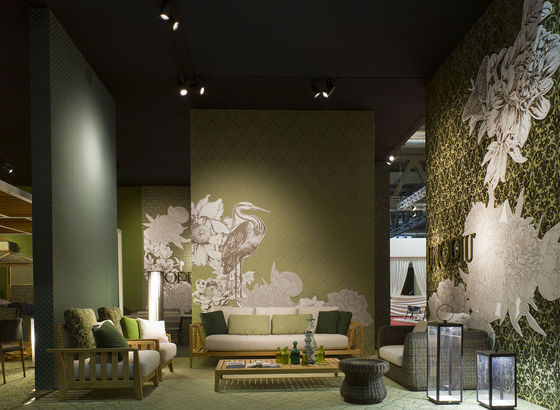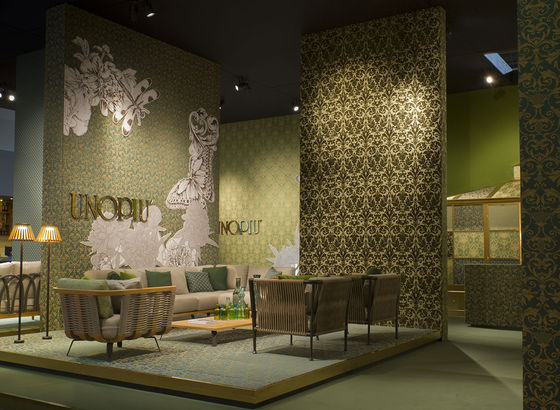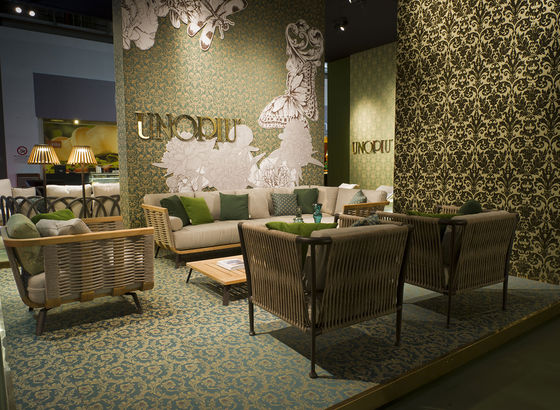 Additions to two existing and commercially successful lines like Panarea and Sunstripe. Panarea is in aluminium and soft techno fabric which perfectly suits our contract, adding a new deckchair to match the sunlounger and Sunstripe is a comfortable seating collection in dove grey synthetic fibre which is enhanced by the addition of an inviting sunlounger.

Among the interesting new outdoor tendencies on the one hand is the wide range of cushions in different weights and finishes, offering infinite esthetic solutions to make your home ever more personal, exclusive and welcoming. On the other hand is the masterly mix of excellent materials, an ideal fusion of elegance and taste that goes beyond simple outdoor use.

FLEXOFORM
Codice-Relax is the concept that guides FLEXFORM in its approach to the Salone Internazionale del Mobile 2016 in Milan. It reflects a trend that fits perfectly with the FLEXFORM style, with its focus on comfort and elegance. To slow things down, to transform the home into a relaxing, reassuring place - to turn a house into a home – represents FLEXFORM's promise to those who choose its products. The theme of Codice-Relax has gained momentum in a recent editorial by Giusi Ferré – trend-fashion editor – who during the recent fashion shows in Milan entitled her remarks "The radical culture of comfort in beauty." Codice-Relax also in the choice of neutral, delicate colors, like those selected by Pantone as the hues of the year: powder blue, cipria. When the theme of Relaxation is combined with that of the intrinsic Beauty of FLEXFORM products, totally Thought&Made in Italy, the house is transformed into a welcoming "nesting refuge."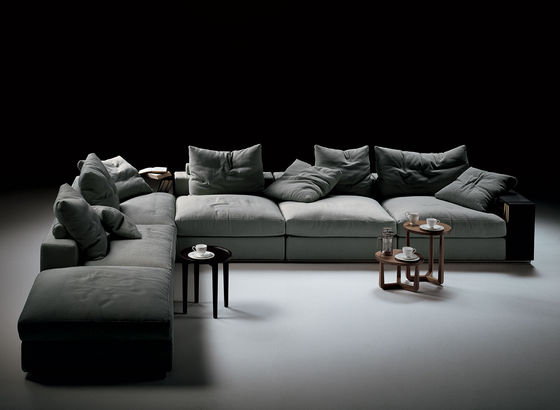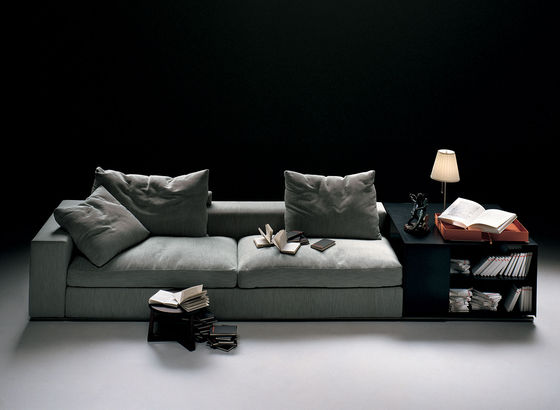 15 years of the GROUNDPIECE Sofa
Much of the recent history of FLEXFORM began in 2001, when the architect Antonio Citterio designed the GROUNDPIECE sofa, now celebrating its 15th birthday.

A unchallenged bestseller of all of FLEXFORM's production, GROUNDPIECE has revolutionized our way of thinking about sofas, introducing new proportions and usage modes. It is comfortably deep, particularly low, and originally deconstructed with large goosedown cushions. GROUNDPIECE has changed our way of sitting on a sofa, making it less formal, lending itself to new functions. It is based on an awareness that people behave in new ways. This is why low storage elements covered in cowhide can be inserted in the structure, replacing part of the back or the armrest, offering useful surfaces on which to place objects.

The rather passé decorum of formal seating is swept away by Groundpiece, in favor of a more comfortable, relaxed sitting position. Groundpiece is the success story of a clean break with clichés.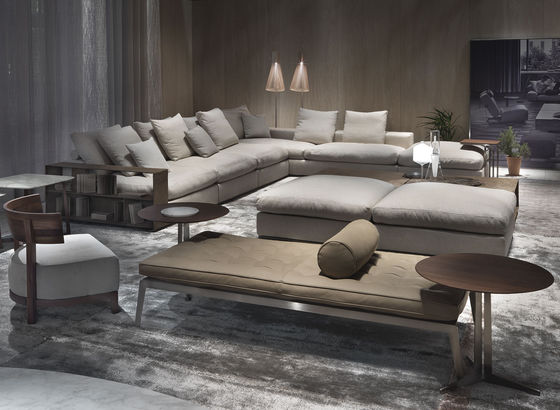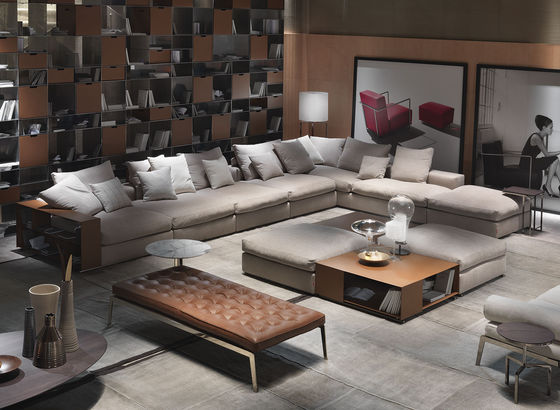 The Flexform MOOD Collection 2016 presented at the Salone del Mobile features new models and expansions of existing product lines. All the new items are by the architect Roberto Lazzeroni.
Walter Knoll
Walter Knoll is presenting twelve new products and extensions to the range for 2016 in Milan. Including rediscovered classics of mid-century modernity and design icons by artist Sadi Ozis, co-founder of modernity in Turkey in the 1950s. A tribute to craftsmanship and material: the new sofa and new armchair in the Isanka range. The collection is extended by innovative chairs and tables for elegant dining.
These items are complemented by the Saddle Chair barstool, being shown for the first time by Walter Knoll in Milan. An example of precise craftsmanship, classically austere but at the same time exceptionally comfortable – the legendary chair made of saddle leather.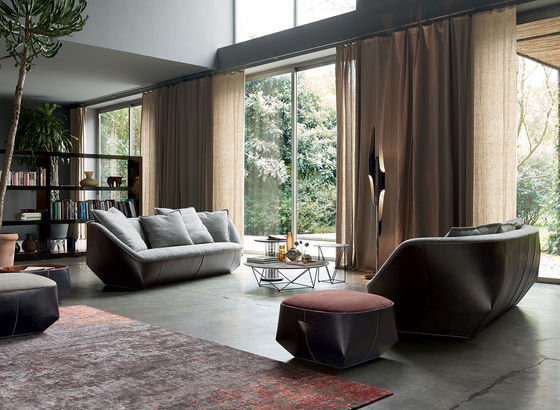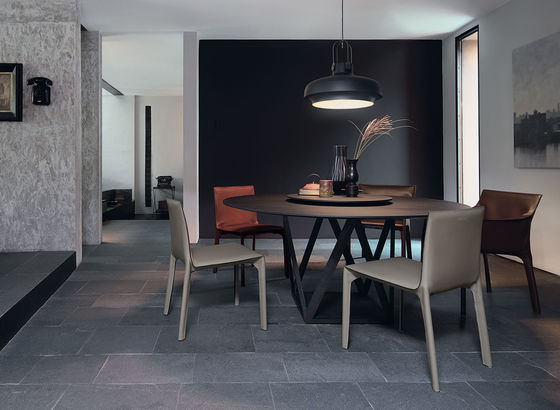 New fabrics and leathers extend the Walter Knoll philosophy of "Natural Elegance". New fabric "Anni" is a tribute to the Bauhaus and fabric artist Anni Albers. This special fabric, soft wool featuring brilliant threads of metallic yarn, was developed by Walter Knoll together with fabric designer Helmut Scheufele and the former hand weaving mill Maute, taking inspiration from the design language of the living culture of the fifties.
The leather "Paco" – similar to saddle leather – is the perfect extension to the collection when it comes to frequent and challenging use. Its robustness and the fact that it is easy to clean also render it perfect for use on office premises.
Significant, inspiring and bigger than ever before: Walter Knoll is presenting its innovations on over 600 square metres in Milan. Once again, the stand was created in collaboration with the Identity Architects Ippolito Fleitz Group – most recently honoured with its inclusion in the "Hall of Fame" of the American magazine "Interior Design". In December 2015, the Stuttgart-based agency was the first German interior design company ever to be awarded the coveted award, in existence for 31 years now, in New York. The studio thus takes its place in the list of great designers alongside the likes of Warren Platner, Patricia Urquiola and Shigeru Ban.
Kitchens
Technology don't stay out of the kitchen either! Computers on cookers that keep in mind what you have in your fridge and suggest you what you can cook with that. They even remind you to wash your hands before cooking.
I have seen that the most of the kitchens have a big island centrepiece where you can find the electric cooker and the sink. Very special working place can be moved on guide rails to create a table and other working places. When you close them you don't realize that you are in the kitchen, but you think to be in the living room!
Another peculiarity of the kitchens are the cupboards with double closing. Inside you can find place for your kitchenAid or other electro-domestics and if you close the door everything is clean and perfect in one second!
Bosh has created flames where you can regulate the heat very well.
The Salone del Mobile in Milan is an international fair and for me it's the most successful exhibition organised in this town!
no
on
1
Salone del Mobile, Milan 2016