An unusual journey for a woman – Automechanika – Frankfurt – September 2014
As usual…. to see better "click" on the photos!

What can we do for our husband? Everything or almost everything! I have been organizing my husband's most important fair in Frankfurt for more than 20 years: I find myself among brakes, mufflers, strange cables, tubes, small screws in the biggest exposition structure in Europe. It's sold out!

People who visit our stand come from all over the world and you sometimes can guess easily the language you have to use to communicate because it's really clear where they come from. But sometimes you find yourself speaking English to understand after a while (when you look at the business card of the person you are talking to) that I (German) am communicating with a German in English! I really love the variety of nationalities, world is full of differences and from the singular questions you have to answer you can understand the different needs any country has.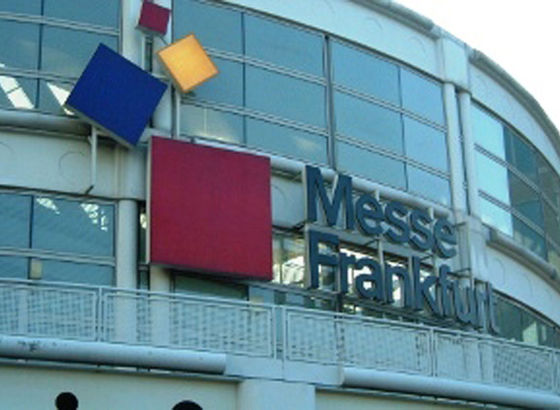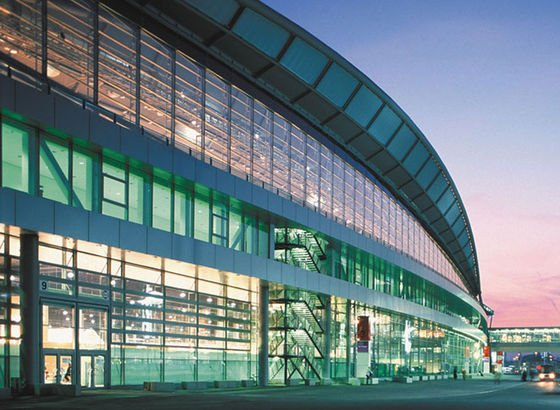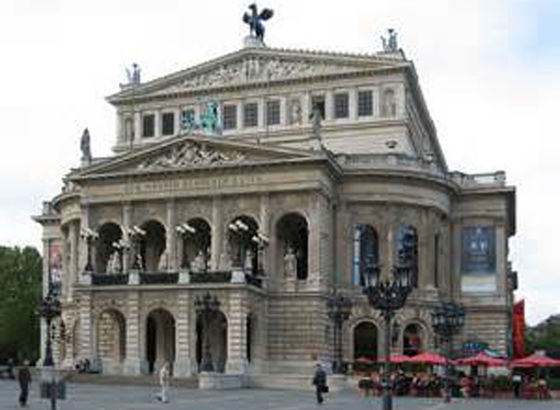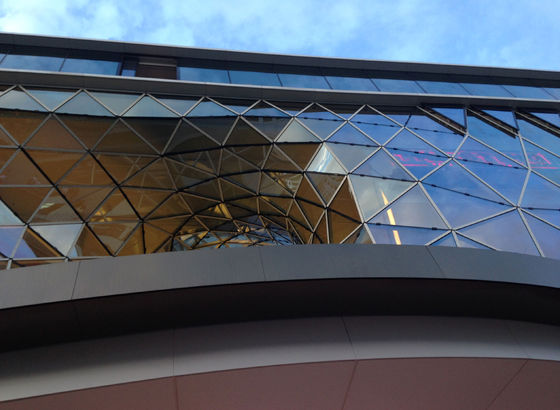 You have to prepare your stand right after the end of the fair itself. We receive the schedule of the next fairs in the world (the news this year is the exposition in Chicago in April) and among them there is the most important one for us: next Automechanika 2016.

Everything is perfectly organized (it's more or less as when we build an house, you have to follow any step and in the right order). It's really like a Switzerland watch! Water connection, electricity, walls to build, phone lines, technical plants in general, parking place, tickets to give to customers, advertising material and many other things to complete everything on time.

We have been cooperating with a specialized company, G&G Messebau (now Wirkungsgrad), for several years and it has helped us with our stand. This company works in perfect harmony with us thanks to one of its partner, Karin, who has followed us for years and any time we arrive in Frankfurt she welcomes us with an homemade cake! This company was bought by a young man, Tom Ditsch, some years ago and we met him right this year to talk about some changes we would like to realize for the exposition in 2016. He has very interesting and creative ideas.

Who has already organized a fair, at list once I mean, knows very well that there is no price to have everything ready when you have to start with the exposition. When you reach Frankfurt one day before the opening and your stand is there, perfectly completed, you just need to add your touch, like the right place to hang some posters. People who had worked for you are there to ask you the last impressions, if you like the whole or you want some little changes. And if there are problems they still are next to you solving any possible accident it may occurs. This is how I like it, it's really a dream when cooperation works so well!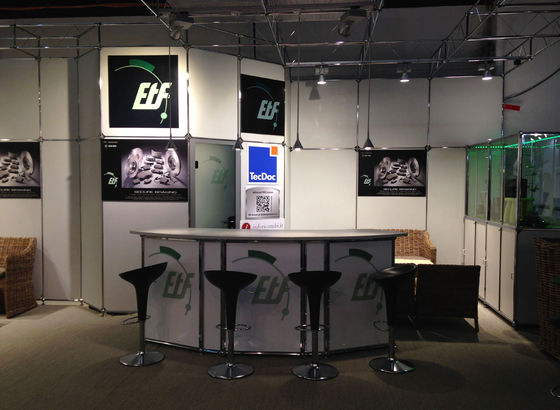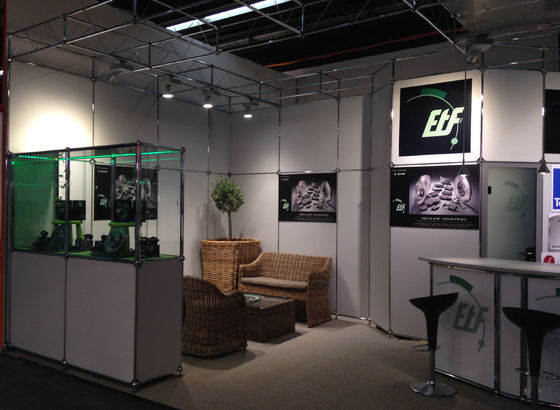 The look of your stand depends on what you want, on your budget and on your experience. The stand becomes your house for five days and the whole staff will be housekeeper.

As I have had a shop for several years I can't help decorating the windows, but not as people usually do in an exposition like this using pieces that for me are not really interesting and showed without taste (I don't want to be rude but I imagine you know what I mean: this world is not exactly what we women love!).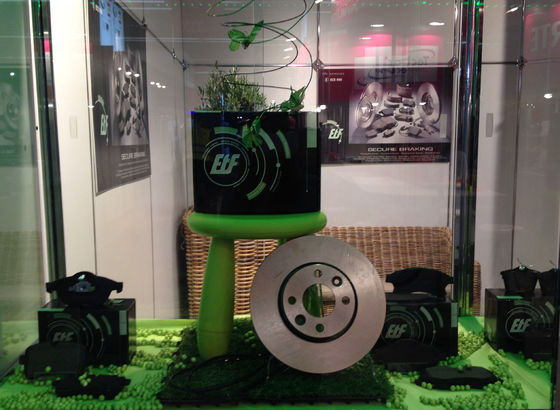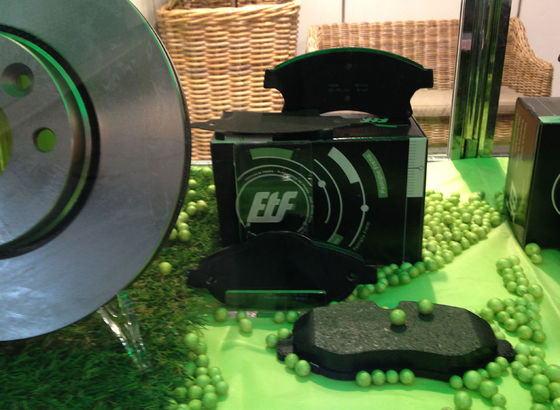 I usually put in the windows pieces that are not exactly what people expect to see in an exposition of this sector and therefore our stand is really something you can't ignore!

A fair wouldn't be a real fair without a post-fair. I mean you have to eat after one tiring working day and maybe we do it with old customers or sometimes I can have a tête-à-tête with my husband, we can explore some new restaurants or visit the ones I know very well because I used to live in Wiesbaden once, we can even look for exotic cuisine!

As I have already written talking about the fair in Paris "Maison & Object", it's not an easy time for economy in general but the press release of Automechanika lets us know that this year a new record has been reached: 4.631 expositors in 2014 comparing with the 4.597 in 2013! The automotive industry is improving and it seems that something is going to move.

I know: this article is quite different from my usual style, but organizing a fair is something tiring and hard, so I have thought it was nice to let you have look under the curtains. Am I right?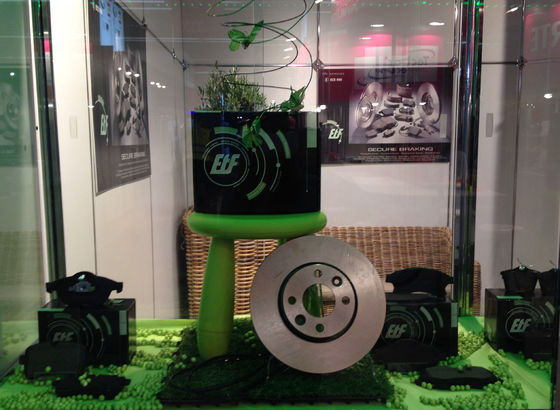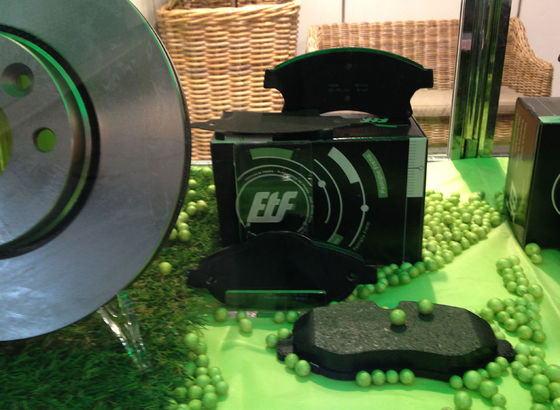 The fair in Germany has just ended and for me it was a working time but also the opportunity to visit my country and eat my favorite dishes, to see my family, speak my language and meet old colleagues.
When I came back after the fair my cat Paul gave me his warm welcome home! Because this is my home now: Italy has been my home for more than 21 years because it's my husband's country and have new friends here and new favorite dishes!
I have the double of everything!
24
An unusual journey for a woman – Automechanika – Frankfurt – September 2014
on
2014-09-29
{"titolo":"An unusual journey for a woman – Automechanika – Frankfurt – September 2014","testo":"

An unusual journey for a woman – Automechanika – Frankfurt – September 2014

\r\n

\r\n

As usual…. to see better "click" on the photos!

\r\n

\r\n


What can we do for our husband? Everything or almost everything! I have been organizing my husband's most important fair in Frankfurt for more than 20 years: I find myself among brakes, mufflers, strange cables, tubes, small screws in the biggest exposition structure in Europe. It's sold out!

\r\n


People who visit our stand come from all over the world and you sometimes can guess easily the language you have to use to communicate because it's really clear where they come from. But sometimes you find yourself speaking English to understand after a while (when you look at the business card of the person you are talking to) that I (German) am communicating with a German in English! I really love the variety of nationalities, world is full of differences and from the singular questions you have to answer you can understand the different needs any country has.

\r\n

\r\n

PHOTO1654 PHOTO1655

\r\n

PHOTO1660 PHOTO1661

\r\n

\r\n


You have to prepare your stand right after the end of the fair itself. We receive the schedule of the next fairs in the world (the news this year is the exposition in Chicago in April) and among them there is the most important one for us: next Automechanika 2016.

\r\n


Everything is perfectly organized (it's more or less as when we build an house, you have to follow any step and in the right order). It's really like a Switzerland watch! Water connection, electricity, walls to build, phone lines, technical plants in general, parking place, tickets to give to customers, advertising material and many other things to complete everything on time.

\r\n


We have been cooperating with a specialized company, G&G Messebau (now Wirkungsgrad), for several years and it has helped us with our stand. This company works in perfect harmony with us thanks to one of its partner, Karin, who has followed us for years and any time we arrive in Frankfurt she welcomes us with an homemade cake! This company was bought by a young man, Tom Ditsch, some years ago and we met him right this year to talk about some changes we would like to realize for the exposition in 2016. He has very interesting and creative ideas.

\r\n


Who has already organized a fair, at list once I mean, knows very well that there is no price to have everything ready when you have to start with the exposition. When you reach Frankfurt one day before the opening and your stand is there, perfectly completed, you just need to add your touch, like the right place to hang some posters. People who had worked for you are there to ask you the last impressions, if you like the whole or you want some little changes. And if there are problems they still are next to you solving any possible accident it may occurs. This is how I like it, it's really a dream when cooperation works so well!

\r\n

\r\n

PHOTO1650 PHOTO1651

\r\n


The look of your stand depends on what you want, on your budget and on your experience. The stand becomes your house for five days and the whole staff will be housekeeper.

\r\n


As I have had a shop for several years I can't help decorating the windows, but not as people usually do in an exposition like this using pieces that for me are not really interesting and showed without taste (I don't want to be rude but I imagine you know what I mean: this world is not exactly what we women love!).

\r\n

\r\n

PHOTO1652 PHOTO1653

\r\n


I usually put in the windows pieces that are not exactly what people expect to see in an exposition of this sector and therefore our stand is really something you can't ignore!

\r\n


A fair wouldn't be a real fair without a post-fair. I mean you have to eat after one tiring working day and maybe we do it with old customers or sometimes I can have a tête-à-tête with my husband, we can explore some new restaurants or visit the ones I know very well because I used to live in Wiesbaden once, we can even look for exotic cuisine!

\r\n


As I have already written talking about the fair in Paris "Maison & Object", it's not an easy time for economy in general but the press release of Automechanika lets us know that this year a new record has been reached: 4.631 expositors in 2014 comparing with the 4.597 in 2013! The automotive industry is improving and it seems that something is going to move.

\r\n


I know: this article is quite different from my usual style, but organizing a fair is something tiring and hard, so I have thought it was nice to let you have look under the curtains. Am I right?

\r\n

\r\n

PHOTO1652 PHOTO1653

\r\n


The fair in Germany has just ended and for me it was a working time but also the opportunity to visit my country and eat my favorite dishes, to see my family, speak my language and meet old colleagues.
When I came back after the fair my cat Paul gave me his warm welcome home! Because this is my home now: Italy has been my home for more than 21 years because it's my husband's country and have new friends here and new favorite dishes!
I have the double of everything!

","abstract":"What can we do for our husband? Everything or almost everything! I have been organizing my husband's most important fair in Frankfurt for more than 20 years"}
1654
no
What can we do for our husband? Everything or almost everything! I have been organizing my husband's most important fair in Frankfurt for more than 20 years
77
44
-
2015-12-17 17:23:33
blog