Snow party with friends
As usual…. to see better "click" on the photos!
As we haven't been making any party with friends since the end of summer I would like to propose you to organize one on the snow. With few suggestions your outdoor party will be able to "warm the heart" of your guests.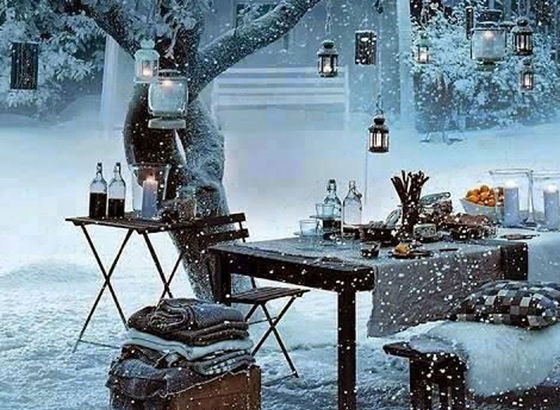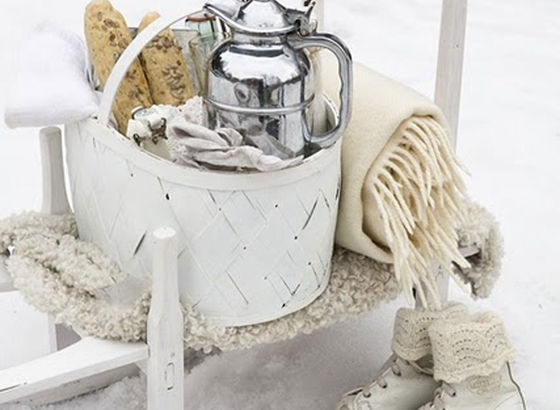 First
Important for a party on the snow is that you have some heat somewhere. Best way is to make a big fire that makes warm and gives you light. If you can't make true fire you can buy fireplaces in the internet or shops like Flamant, they are made of metal and you can burn without risk, it's sure! If you like you can put some essential oil in the fire, they work better with birch wood. Add hurricane lamps with candles as much as you can, small lamps with candles (IKEA) on the snow or you can also hang them with strings on the trees.
Second
Try to have hot food for the whole party. You can choose among different soups, thick vegetable soups, stews etc. important is that you have something hot. You can offer what you like, maybe it should be easy to handle like finger food. You should think about any of your friends when you plan the menu, also for the vegetarian ones.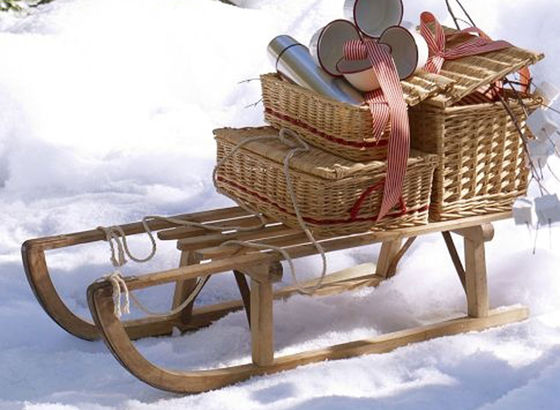 Third
Another very important object for an outdoor party is a sleigh made of wood! It's not only nice to see but it's also very helpful to carry the wood for example. You can also use it as little table to put food or drinks on, also lovely when you place a false fur plaid on it to sit down.
Forth
Table setting: fine and expensive tableware is not a good solution for a party in the snow. You can find a lot of very cute plastic plates, glasses, napkins etc. in the party shops today. You can think of using true plates if the are cheap or if your party takes place in your garden near the house. Use mugs and big glasses that are thick (like "Starbucks") so the hot chocolate or hot wine stay hot.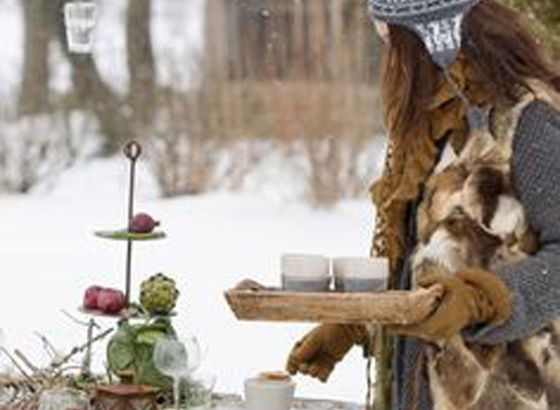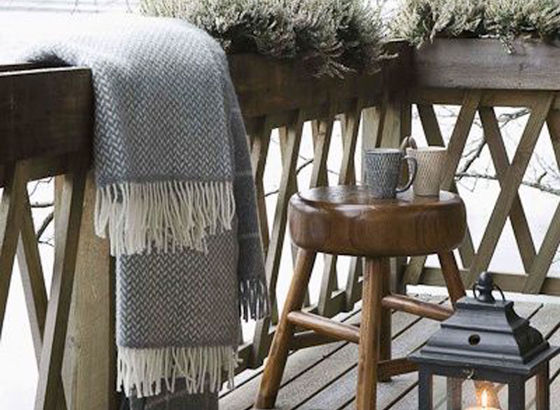 Fifth
If you move you don't feel cold, so think about some games you can make together, maybe bocce. It's a good idea to color the little ball into red, so you can find it easily in the snow. Games are also funny for children!
Sixth
Hot wine and company are a fantastic idea when it's cold outside, think about a version without alcohol like hot orange juice. Attention: Don't drink both!!!!!!! Experienced!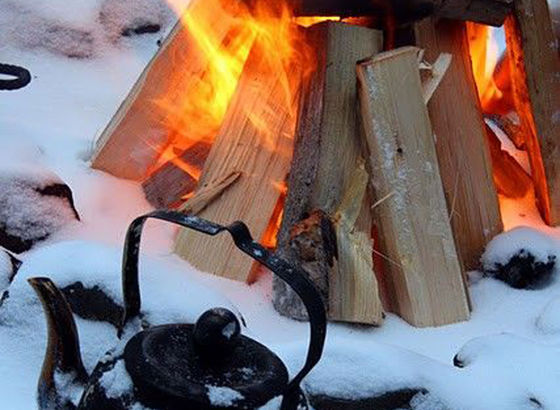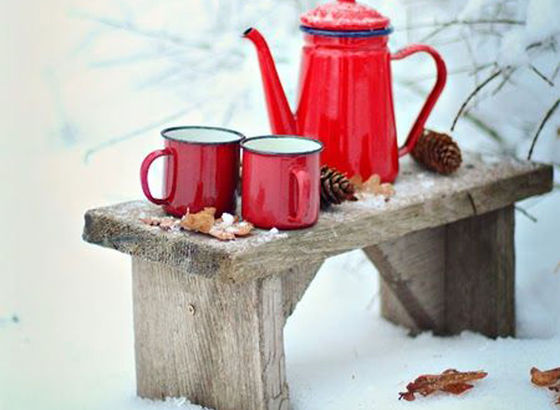 Seventh
What does a beautiful fireplace mean without music? Nothing! Sad! If you have somebody that can play guitar you can ask him to or you can put your iPod with little loudspeakers (pay attention that they are waterproof!). Choose the right music for example: "Tinsel & Lights", Tracey Thorn o "Funny Looking Angels", Smith & Burrows.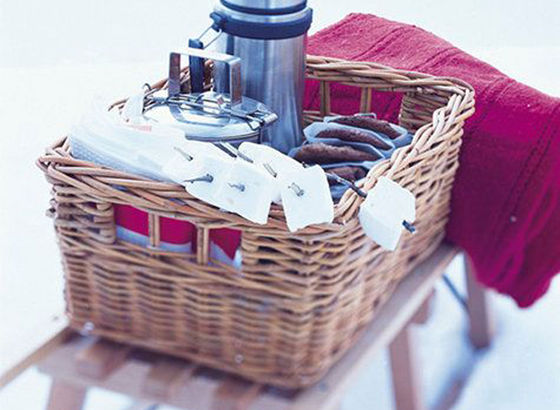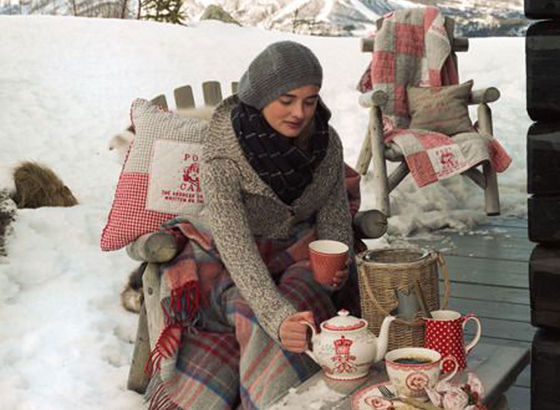 Eight
Even for an outdoor party on the snow you can create a little "lounge". You should take strong foldable furniture with metal legs, warm soft plaids, false fur plaids. If you would like to make it special you can build a bar on the snow. Fill small buckets with snow and use it as bricks, build a wall step by step, now fix it well with your hands (not without gloves!), put some water and it will freeze.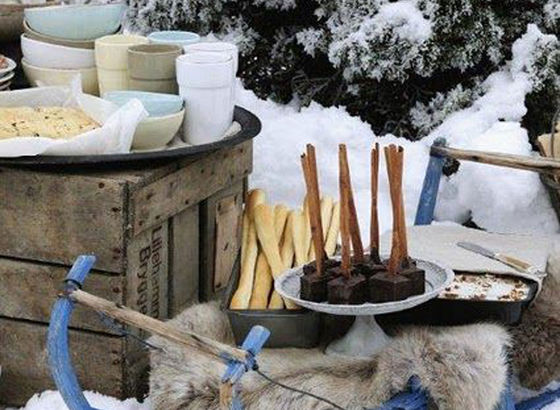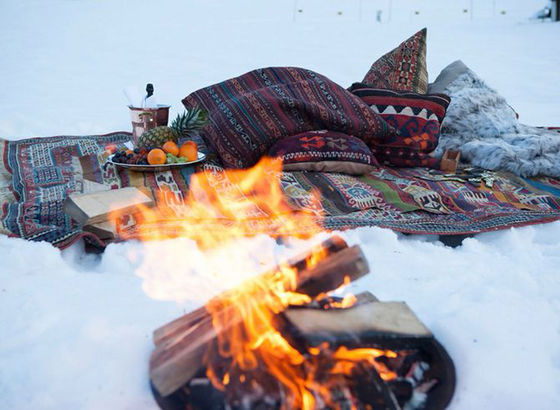 Hope that I gave you a good idea and I was able to show you that even when it's snow outside you can have fun with your friends organizing an outdoor party. Dress well, using heavy shoes, gloves, hat and a scarf!
Have a lot of fun in the winter-wonder-world!
As we haven't been making any party with friends since the end of summer I would like to propose you to organize one on the snow
no
on
12
Snow party with friends
89
2015-01-09
1834
lifestyle
{"titolo":"Snow party with friends","abstract":"As we haven't been making any party with friends since the end of summer I would like to propose you to organize one on the snow","testo":"

Snow party with friends

\r\n

\r\n

As usual…. to see better "click" on the photos!

\r\n

\r\n

\r\n

As we haven't been making any party with friends since the end of summer I would like to propose you to organize one on the snow. With few suggestions your outdoor party will be able to "warm the heart" of your guests.

\r\n

\r\n

PHOTO1833 PHOTO1834

\r\n

\r\n

First
Important for a party on the snow is that you have some heat somewhere. Best way is to make a big fire that makes warm and gives you light. If you can't make true fire you can buy fireplaces in the internet or shops like Flamant, they are made of metal and you can burn without risk, it's sure! If you like you can put some essential oil in the fire, they work better with birch wood. Add hurricane lamps with candles as much as you can, small lamps with candles (IKEA) on the snow or you can also hang them with strings on the trees.

\r\n

Second
Try to have hot food for the whole party. You can choose among different soups, thick vegetable soups, stews etc. important is that you have something hot. You can offer what you like, maybe it should be easy to handle like finger food. You should think about any of your friends when you plan the menu, also for the vegetarian ones.

\r\n

\r\n

PHOTO1835 PHOTO1845

\r\n

\r\n

Third
Another very important object for an outdoor party is a sleigh made of wood! It's not only nice to see but it's also very helpful to carry the wood for example. You can also use it as little table to put food or drinks on, also lovely when you place a false fur plaid on it to sit down.

\r\n

Forth
Table setting: fine and expensive tableware is not a good solution for a party in the snow. You can find a lot of very cute plastic plates, glasses, napkins etc. in the party shops today. You can think of using true plates if the are cheap or if your party takes place in your garden near the house. Use mugs and big glasses that are thick (like "Starbucks") so the hot chocolate or hot wine stay hot.

\r\n

\r\n

PHOTO1837 PHOTO1838

\r\n

\r\n

Fifth
If you move you don't feel cold, so think about some games you can make together, maybe bocce. It's a good idea to color the little ball into red, so you can find it easily in the snow. Games are also funny for children!

\r\n

Sixth
Hot wine and company are a fantastic idea when it's cold outside, think about a version without alcohol like hot orange juice. Attention: Don't drink both!!!!!!! Experienced!

\r\n

\r\n

PHOTO1839 PHOTO1840

\r\n

\r\n

Seventh
What does a beautiful fireplace mean without music? Nothing! Sad! If you have somebody that can play guitar you can ask him to or you can put your iPod with little loudspeakers (pay attention that they are waterproof!). Choose the right music for example: "Tinsel & Lights", Tracey Thorn o "Funny Looking Angels", Smith & Burrows.

\r\n

\r\n

PHOTO1841 PHOTO1842

\r\n

\r\n

Eight
Even for an outdoor party on the snow you can create a little "lounge". You should take strong foldable furniture with metal legs, warm soft plaids, false fur plaids. If you would like to make it special you can build a bar on the snow. Fill small buckets with snow and use it as bricks, build a wall step by step, now fix it well with your hands (not without gloves!), put some water and it will freeze.

\r\n

\r\n

PHOTO1843 PHOTO1844

\r\n

\r\n

Hope that I gave you a good idea and I was able to show you that even when it's snow outside you can have fun with your friends organizing an outdoor party. Dress well, using heavy shoes, gloves, hat and a scarf!

\r\n

Have a lot of fun in the winter-wonder-world!

\r\n

\r\n

"}
2016-06-28 09:56:50
34
-