1999
lifestyle
97
2015-02-10
{"testo":"


Rooms for women

\r\n

In the XV century all the rooms belonging to the mistress were considered rooms for women. These rooms were often in a separate part of the house and they sometimes had even their own entrance. All the women lived there with their servants and their ladies-in-waiting and they often preferred this accommodation in comparison to living with their husbands.

\r\n

\r\n

PHOTO1999 PHOTO2000

\r\n



In the XVII century there was a change: the room for a woman could be a room for a woman without her entourage. Today we use this expression only as a common saying.

\r\n

\r\n

PHOTO2001 PHOTO2002

\r\n



This was the past. But nowadays? What does a woman room mean today? To understand it we have to make an effort and try to understand men first!

\r\n

\r\n

PHOTO2004 PHOTO2005

\r\n



If men have to furnish their house, they ask help to a female friend they trust or they go directly to an interior designer. The third opportunity is to go to live to the woman they love and in this way the house is already furnished.

\r\n

\r\n

PHOTO2007 PHOTO2023

\r\n



Women rooms are the mirror of their souls. You can understand a lot of a woman just watching her house; her rooms reflect her mood and her nature. The way women live an house changes constantly during years according to different phases and necessities. Women like furnishing their house more times. Men decide once in their life and this choice will be their style forever. This moment is usually when they decide the way to dress and when they develop their dancing style (it's funny, isn't it?). So the style of a man is basically an old piece of furniture given by his mother (if he is a bit lucky, it's the Eames chair belonging to his father!), something from IKEA (do-it-yourself) and some things bought here and there without thinking. The whole together with a big refrigerator and a plasma TV! It doesn't matter how all these things look like together. Men buy new furniture even less than clothes!

\r\n

\r\n

PHOTO2009 PHOTO2010

\r\n



If men have got taste, money and few time, their house is exactly the result of a perfect design. With some famous classical pieces: with a leather sofa and a parquet it is impossible to make mistakes! Do you agree? But in this way the house is not personal at all, not beautiful and has nothing feminine.

\r\n

\r\n

PHOTO2011 PHOTO2012

\r\n



Women can love things even only for their beauty. Men needs utility, not beauty! If an object is just nice, this is not a good reason to buy it, even if it can change the look of a room! Only personal decorations can create individual style as they are not there because of fashion or because imitated.

\r\n

\r\n

PHOTO2013 PHOTO2014

\r\n


Icons like "Le Corbusier" wanted a minimalist house, without decorations and they called it "masculine". This idea has been synonym of good taste for long time (an house furnished by famous designers was always right, it was impossible to criticize it). On the contrary the mix of objects, furnishings and things to create a warm atmosphere was synonym of a provincial taste, something not sophisticated.

\r\n

In the 80ies, thanks to a developing emancipation, women started to create their house as well. Do you remember Mickey Rourke's apartment in "9½ Weeks"? White walls, chrome furnishing and metal window shutters. Kim Basinger was the one who could create the feminine atmosphere!

\r\n

\r\n

PHOTO2015 PHOTO2016

\r\n

But the two worlds are designated to be different and very quickly women have chosen colors and creativity. They love furnishing according to their mood. Maybe in Nordic style with little flowers to seem younger or in Boho style to reflect the part inside of them that still feels hippy. Ideas and reasons come from movies and if it's impossible to realize this dreams because to buy a castle can be too expensive, it's enough to buy some silver candleholders to get closer to it.

\r\n

\r\n

PHOTO2017 PHOTO2018

\r\n



Women stay in their rooms and "live" them more than men. Men just think about their primary needs. Women live the aesthetic side of their houses and love changing. Men don't care about news trends. Women need news to be happy: new cushions, curtains, carpets and new color for springtime! Women love their houses and enjoy showing them to friends. We don't have to be ashamed of our feminine taste and luckily this is an old success by now! World outside our walls can look cruel but if we have our sweet home to go back where we feel very well, we can easily face everything. All what we need is to go home, our sofa, a candle, a warm infusion and our favorite magazine… or maybe our loved movie "Pretty Woman" to watch once again… and everything is all right!. We are at home!

\r\n

\r\n

PHOTO2019 PHOTO2020

\r\n

PHOTO2021 PHOTO2022

\r\n



Honestly, if I look around me in my house, I easily realize that I have more space than my husband. I really feel like in 1500 because I can sincerely say that I have my own rooms! But I don't think this is a problem for my husband. He enjoys the relaxing atmosphere I have created and he is happy to stay with me in " my rooms"!!!

","titolo":"Rooms for women","abstract":"n the XV century all the rooms belonging to the mistress were considered rooms for women.This was the past. But nowadays? What does a woman room mean today?"}
2016-06-28 09:56:50
-
32

Rooms for women
In the XV century all the rooms belonging to the mistress were considered rooms for women. These rooms were often in a separate part of the house and they sometimes had even their own entrance. All the women lived there with their servants and their ladies-in-waiting and they often preferred this accommodation in comparison to living with their husbands.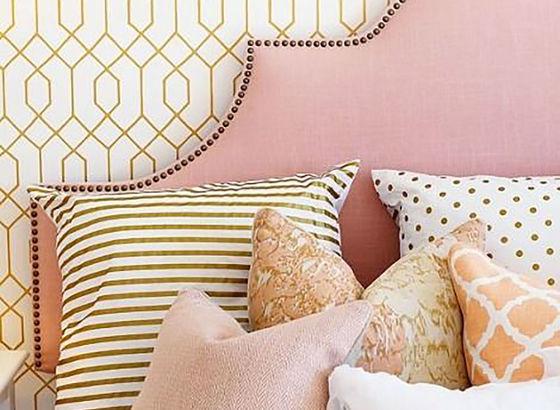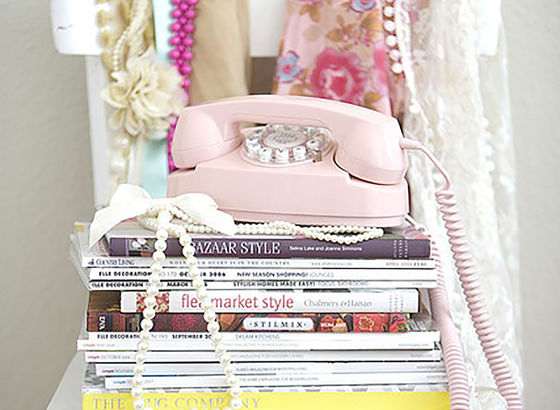 In the XVII century there was a change: the room for a woman could be a room for a woman without her entourage. Today we use this expression only as a common saying.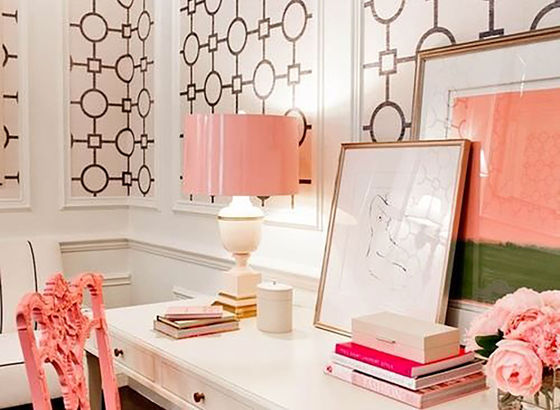 This was the past. But nowadays? What does a woman room mean today? To understand it we have to make an effort and try to understand men first!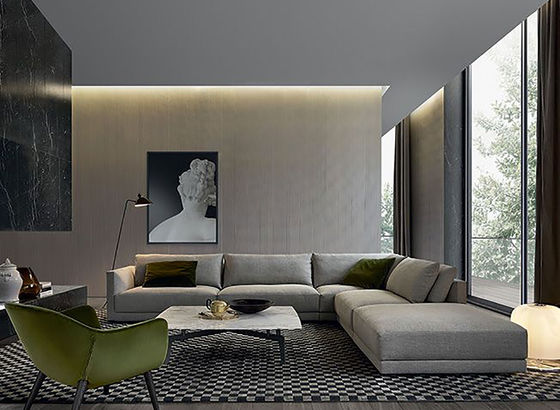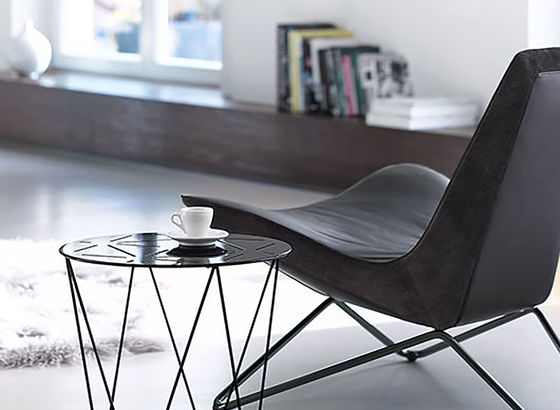 If men have to furnish their house, they ask help to a female friend they trust or they go directly to an interior designer. The third opportunity is to go to live to the woman they love and in this way the house is already furnished.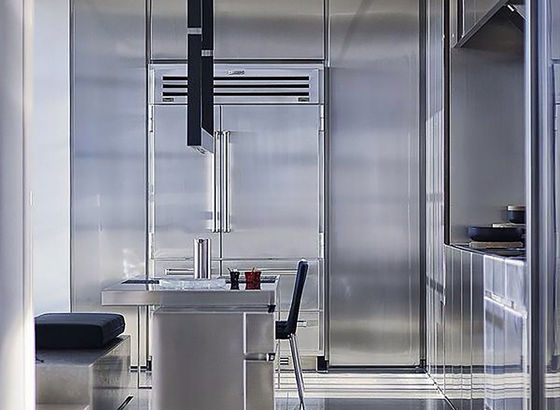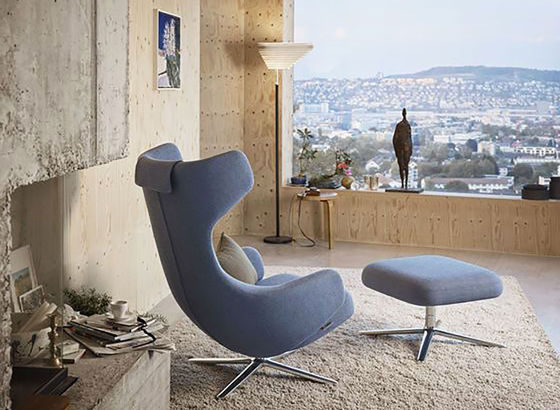 Women rooms are the mirror of their souls. You can understand a lot of a woman just watching her house; her rooms reflect her mood and her nature. The way women live an house changes constantly during years according to different phases and necessities. Women like furnishing their house more times. Men decide once in their life and this choice will be their style forever. This moment is usually when they decide the way to dress and when they develop their dancing style (it's funny, isn't it?). So the style of a man is basically an old piece of furniture given by his mother (if he is a bit lucky, it's the Eames chair belonging to his father!), something from IKEA (do-it-yourself) and some things bought here and there without thinking. The whole together with a big refrigerator and a plasma TV! It doesn't matter how all these things look like together. Men buy new furniture even less than clothes!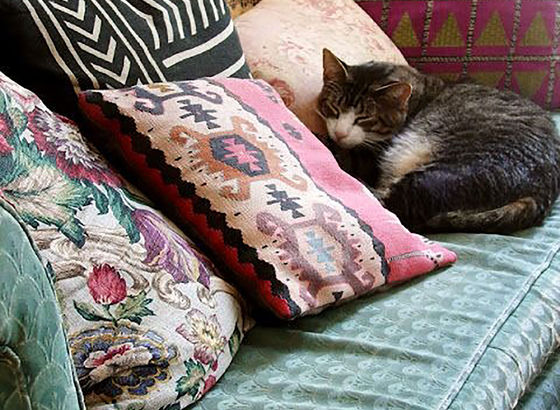 If men have got taste, money and few time, their house is exactly the result of a perfect design. With some famous classical pieces: with a leather sofa and a parquet it is impossible to make mistakes! Do you agree? But in this way the house is not personal at all, not beautiful and has nothing feminine.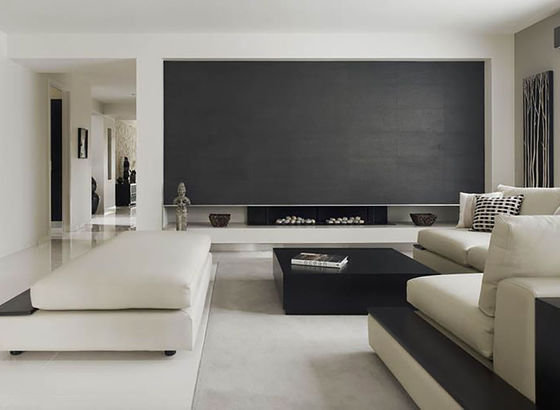 Women can love things even only for their beauty. Men needs utility, not beauty! If an object is just nice, this is not a good reason to buy it, even if it can change the look of a room! Only personal decorations can create individual style as they are not there because of fashion or because imitated.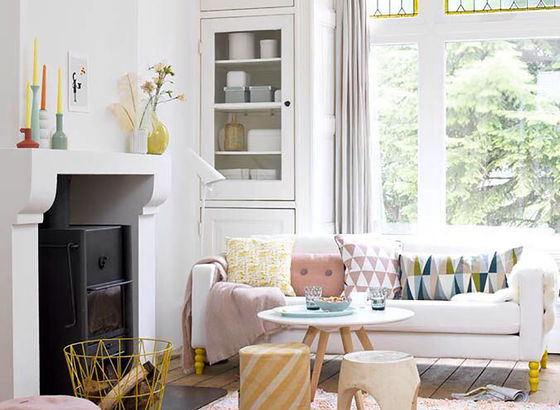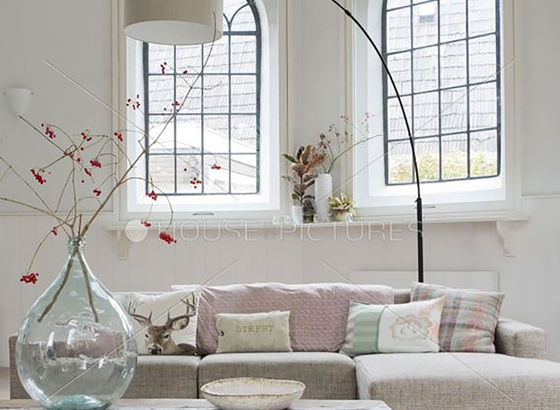 Icons like "Le Corbusier" wanted a minimalist house, without decorations and they called it "masculine". This idea has been synonym of good taste for long time (an house furnished by famous designers was always right, it was impossible to criticize it). On the contrary the mix of objects, furnishings and things to create a warm atmosphere was synonym of a provincial taste, something not sophisticated.
In the 80ies, thanks to a developing emancipation, women started to create their house as well. Do you remember Mickey Rourke's apartment in "9½ Weeks"? White walls, chrome furnishing and metal window shutters. Kim Basinger was the one who could create the feminine atmosphere!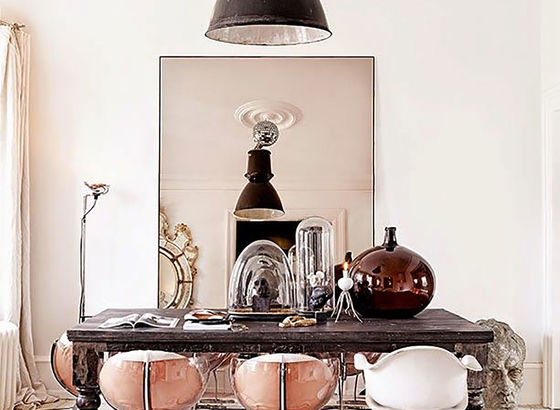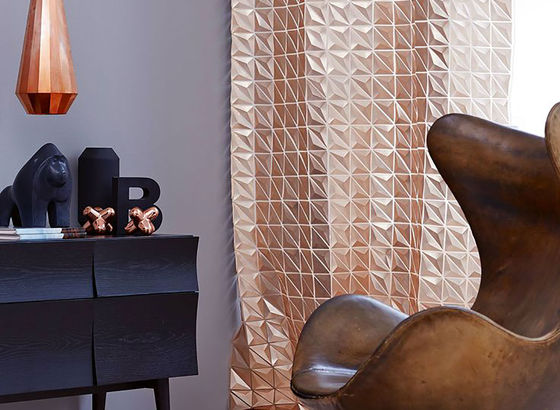 But the two worlds are designated to be different and very quickly women have chosen colors and creativity. They love furnishing according to their mood. Maybe in Nordic style with little flowers to seem younger or in Boho style to reflect the part inside of them that still feels hippy. Ideas and reasons come from movies and if it's impossible to realize this dreams because to buy a castle can be too expensive, it's enough to buy some silver candleholders to get closer to it.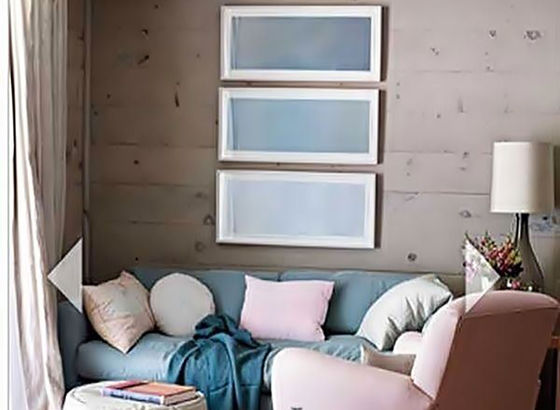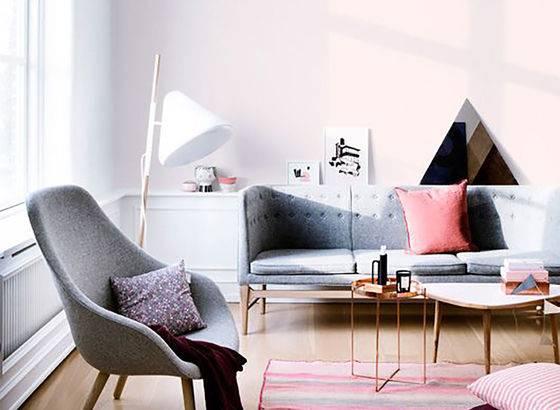 Women stay in their rooms and "live" them more than men. Men just think about their primary needs. Women live the aesthetic side of their houses and love changing. Men don't care about news trends. Women need news to be happy: new cushions, curtains, carpets and new color for springtime! Women love their houses and enjoy showing them to friends. We don't have to be ashamed of our feminine taste and luckily this is an old success by now! World outside our walls can look cruel but if we have our sweet home to go back where we feel very well, we can easily face everything. All what we need is to go home, our sofa, a candle, a warm infusion and our favorite magazine… or maybe our loved movie "Pretty Woman" to watch once again… and everything is all right!. We are at home!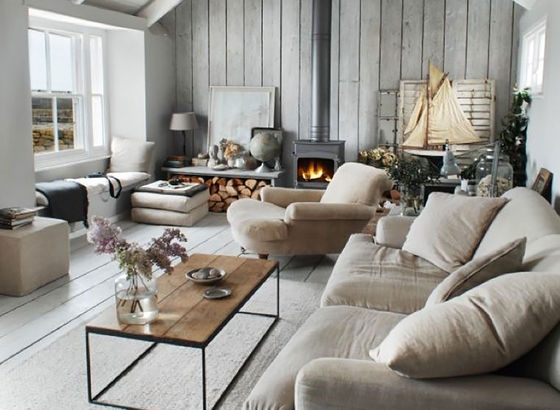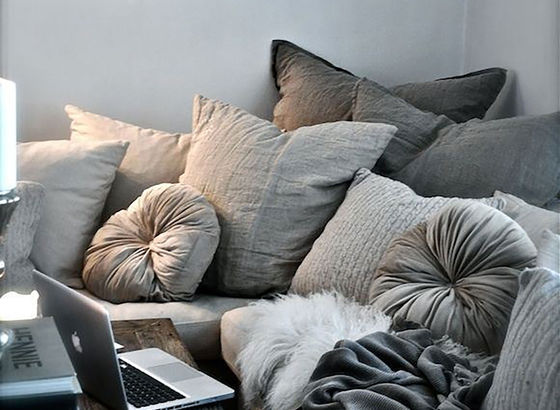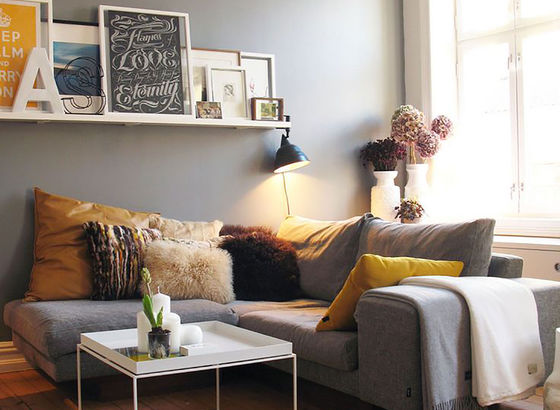 Honestly, if I look around me in my house, I easily realize that I have more space than my husband. I really feel like in 1500 because I can sincerely say that I have my own rooms! But I don't think this is a problem for my husband. He enjoys the relaxing atmosphere I have created and he is happy to stay with me in " my rooms"!!!
n the XV century all the rooms belonging to the mistress were considered rooms for women.This was the past. But nowadays? What does a woman room mean today?
no
on
76
Rooms for women