On the roof of Hermés
As usual…. to see better "click" on the photos!

A Little bijoux in the heart of Paris
I love the perfumes of Hermés, my most favorite is "Jardin sur le toit". This perfume takes its name exactly form this garden on the roof. It was created by the famous "nose" Jean-Claude Ellena. He was inspired by this little paradise corner of Paris to create the fragrance that has scents of fresh-cut grass, country fruit like pears, a touch of magnolia, rose and humid earth.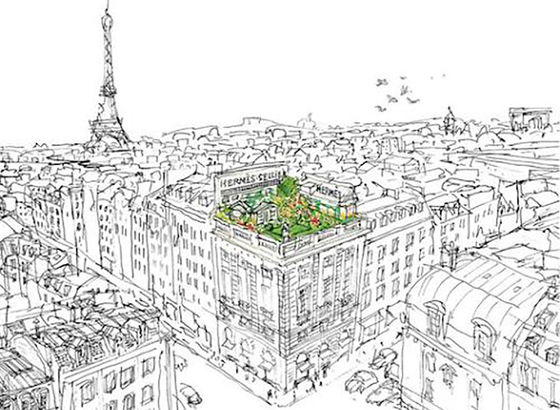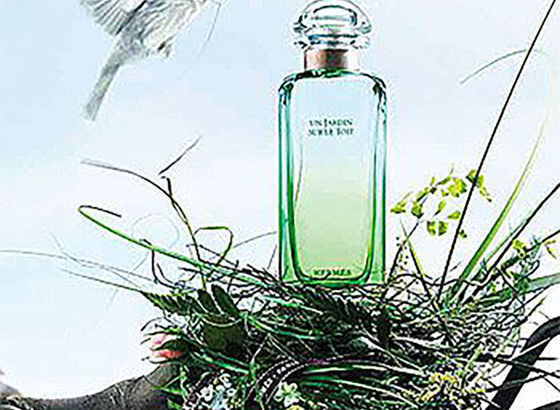 Who visits Paris has also a walk in Rue Faubourg Saint-Honoré for sure. In this road you find the most famous and beautiful shops like Colette, Gucci, Prada and Hermés. Nobody can imagine that on the last floor in the Rue Saint-Honoré, 23, in the historical seat of the Maison Hermés, there is a terrace that opens onto a wonderful garden. Hermés loves nature and gardens and has always transmitted his passion in all his creations.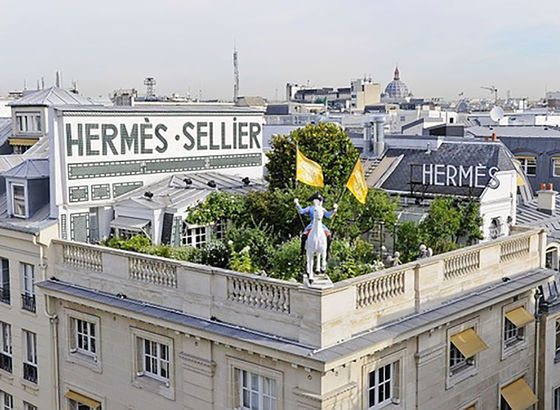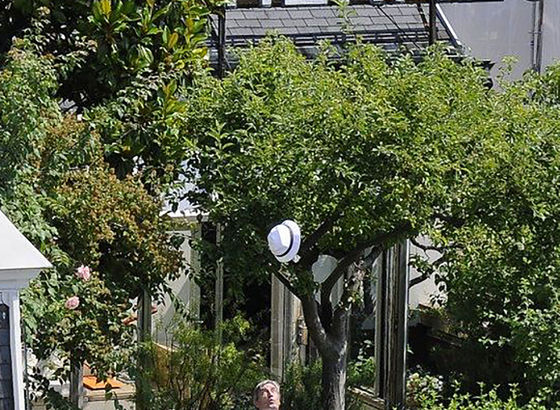 The idea of this garden appeared to Jean Luis Dumas-Hermés, who was the president at that time, in 1970, when he knew that his cousin, Patrick Guerrand-Hermés, had some earth left from an excavation for his swimming-pool on his property in Normandy. He transformed the terrace into a roof garden. Enjoying nature in a big city is a privilege ecause you can follow the rhythm of seasons. The garden created by Jean Luis Dumas-Hermés conquered the whole équipe of the Maison: having breakfast among the roofs of Paris, being surrounded by perfumes and flowering has become a pleasant tradition.
From the today President of the Maison, Patrick Thomas, to Yves Taralon, responsible of the tableware of Hermès, they always test the new creations with a petite-déjeuner on the fifth floor. They set up a little table with linen tablecloths to see the impression that the new creations give.
The garden is cared by Yasmina Des Mati, that is very proud of her little bijoux. She takes care of the plants with great love and without chemical products, only savon noir. The main color of the garden is white, little spots in blue and rose give us a touch of color.
As any respectful garden, it gives us its fruit. It is the main ingredient to make the delicious homemade jam that is offered to guests.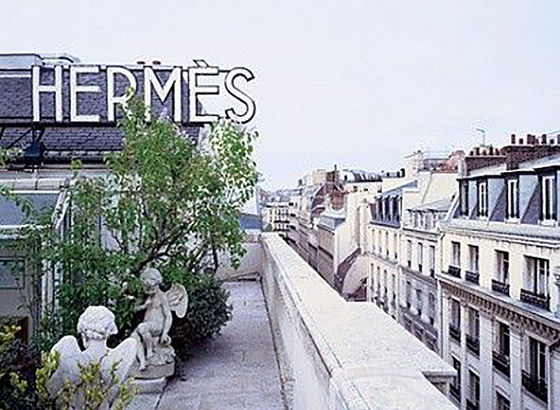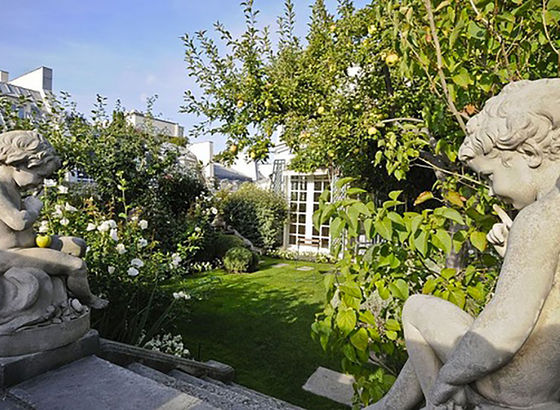 The urban architects today have realized that green in towns is very important and healthy. They pay more attention today to insert also little green spaces in their new products. I also have a small terrace over the roofs and I love it so much! I don't have so much space like th eMaison Hermés but I can have breakfast there as well. I enjoy a lot this little green area, also in Autumn, maybe with a war plaid around me and in springtime with the first sunshine it gets officially opened!
A Little bijoux in the heart of Paris! A roof garden at the top of the Maison Hermés!
no
on
On the roof of Hermés
1
144
2016-02-01
lifestyle
2529
{"abstract":"A Little bijoux in the heart of Paris! A roof garden at the top of the Maison Hermés!","titolo":"On the roof of Hermés","testo":"

On the roof of Hermés

\r\n

As usual…. to see better "click" on the photos!


\r\n

A Little bijoux in the heart of Paris

\r\n

I love the perfumes of Hermés, my most favorite is "Jardin sur le toit". This perfume takes its name exactly form this garden on the roof. It was created by the famous "nose" Jean-Claude Ellena. He was inspired by this little paradise corner of Paris to create the fragrance that has scents of fresh-cut grass, country fruit like pears, a touch of magnolia, rose and humid earth.

\r\n

\r\n

PHOTO2527 PHOTO2528

\r\n

\r\n

Who visits Paris has also a walk in Rue Faubourg Saint-Honoré for sure. In this road you find the most famous and beautiful shops like Colette, Gucci, Prada and Hermés. Nobody can imagine that on the last floor in the Rue Saint-Honoré, 23, in the historical seat of the Maison Hermés, there is a terrace that opens onto a wonderful garden. Hermés loves nature and gardens and has always transmitted his passion in all his creations.

\r\n

\r\n

PHOTO2529 PHOTO2526

\r\n

\r\n

The idea of this garden appeared to Jean Luis Dumas-Hermés, who was the president at that time, in 1970, when he knew that his cousin, Patrick Guerrand-Hermés, had some earth left from an excavation for his swimming-pool on his property in Normandy. He transformed the terrace into a roof garden. Enjoying nature in a big city is a privilege ecause you can follow the rhythm of seasons. The garden created by Jean Luis Dumas-Hermés conquered the whole équipe of the Maison: having breakfast among the roofs of Paris, being surrounded by perfumes and flowering has become a pleasant tradition.

\r\n\r\n

From the today President of the Maison, Patrick Thomas, to Yves Taralon, responsible of the tableware of Hermès, they always test the new creations with a petite-déjeuner on the fifth floor. They set up a little table with linen tablecloths to see the impression that the new creations give.

\r\n\r\n

The garden is cared by Yasmina Des Mati, that is very proud of her little bijoux. She takes care of the plants with great love and without chemical products, only savon noir. The main color of the garden is white, little spots in blue and rose give us a touch of color.

\r\n

As any respectful garden, it gives us its fruit. It is the main ingredient to make the delicious homemade jam that is offered to guests.

\r\n

\r\n

PHOTO2531 PHOTO2532

\r\n

\r\n

The urban architects today have realized that green in towns is very important and healthy. They pay more attention today to insert also little green spaces in their new products. I also have a small terrace over the roofs and I love it so much! I don't have so much space like th eMaison Hermés but I can have breakfast there as well. I enjoy a lot this little green area, also in Autumn, maybe with a war plaid around me and in springtime with the first sunshine it gets officially opened!

"}
2020-06-18 18:33:46
18
-