no
Thanksgiving/Autumn centerpiece
As usual…. to see better "click" on the photos!
Here we are again… changing our centerpiece…Goodness! Time passes so quickly!.. So let's make something perfect for our Thanksgiving dinner but that we can keep for the whole Autumn season too!
As usual my base is the Moroccan tray which is on my dining table the whole year with different decorations.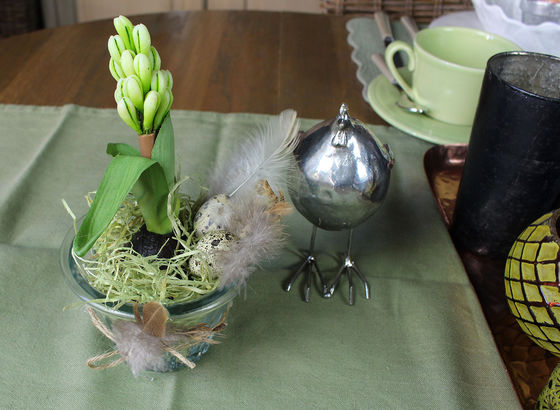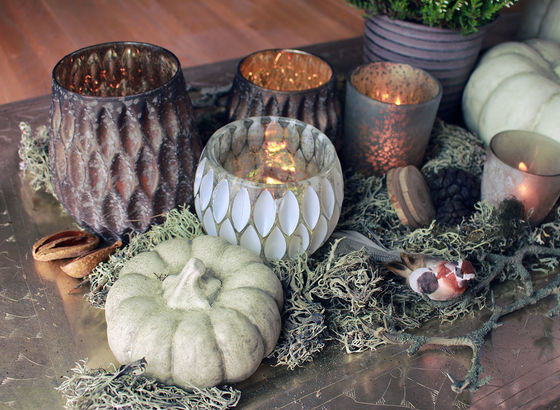 I do not love the orange color of pumpkins, so I used white in my decoration, integrated with white artificial moos votive candleholder in opaque dark copper, some of them with a white structure, little artificial branches (everything bought in a shop for DIY). Add some fresh plants like white heather (Erica) and ready...just light up the candles and the atmosphere become magic, cozy!
The choices of my objects are made considering the look of my house, my furniture and my plates, tablecloths and napkins, in case of guests.
In my video you can see how I created mine step by step!
Do you want to prepare a centerpiece for Thanksgiving or Autumn too? I will be very happy to receive your photos to see how you celebrate this colorful season. You find my e-mail address at the bottom of the homepage!
Do you love my article and my video? If you do, subscribe to receive the newsletter from the website and a toc toc when I do a new video! Hope to see you soon!
-
1
Here we are again… changing our centerpiece. So let's make something perfect for our Thanksgiving!
177
1
2016-11-03 11:27:39
2016-10-13
Thanksgiving/Autumn centerpiece
2656
{"titolo":"Thanksgiving/Autumn centerpiece","abstract":"Here we are again… changing our centerpiece. So let's make something perfect for our Thanksgiving!","testo":"

Thanksgiving/Autumn centerpiece

\r\n

\r\n

As usual…. to see better "click" on the photos!

\r\n

\r\n

Here we are again… changing our centerpiece…Goodness! Time passes so quickly!.. So let's make something perfect for our Thanksgiving dinner but that we can keep for the whole Autumn season too!

\r\n

As usual my base is the Moroccan tray which is on my dining table the whole year with different decorations.

\r\n

\r\n

PHOTO2556 PHOTO2657

\r\n

\r\n

I do not love the orange color of pumpkins, so I used white in my decoration, integrated with white artificial moos votive candleholder in opaque dark copper, some of them with a white structure, little artificial branches (everything bought in a shop for DIY). Add some fresh plants like white heather (Erica) and ready...just light up the candles and the atmosphere become magic, cozy!

\r\n

The choices of my objects are made considering the look of my house, my furniture and my plates, tablecloths and napkins, in case of guests.

\r\n

In my video you can see how I created mine step by step!

\r\n

Do you want to prepare a centerpiece for Thanksgiving or Autumn too? I will be very happy to receive your photos to see how you celebrate this colorful season. You find my e-mail address at the bottom of the homepage!

\r\n\r\n

Do you love my article and my video? If you do, subscribe to receive the newsletter from the website and a toc toc when I do a new video! Hope to see you soon!

\r\n

\r\n

"}
on
decoration