Exhibition of family and friends photos – An old fashion habit? Part 1
As usual…. to see better "click" on the photos!
After all the renovation works I did in my house, changing wall colors and wallpapers everywhere, I got the wish to create different decorations in some little corners. In this case: to expose my photos here and there.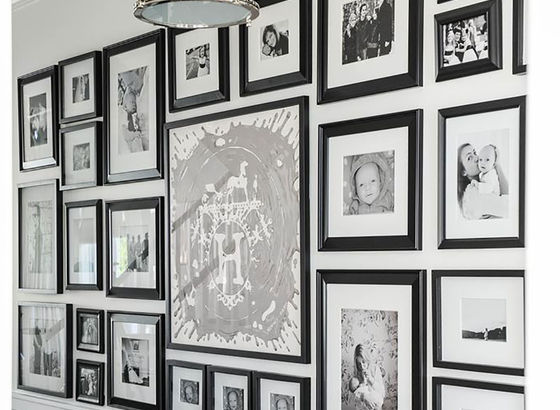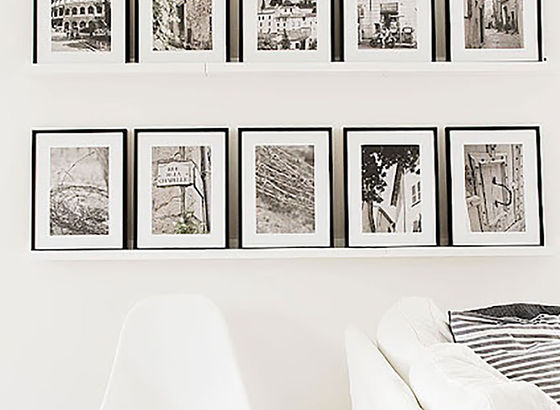 I know that in our time when I-phone, I-pad, digital cameras and computers can do anything, many of us don't print and expose family and friends photos any more . Why not? You don't have do it like in the past, when you used to put a mix of many pictures without sense, but it works only when you create a mood board with your concert tickets, words written by a friend on a piece of paper, memories .....I mean something very personal and therefore very nice. According to me in your living-room or in your bedroom this exposition can look like a mess.
I exposed my new photo-collection on a little white furniture in face of a wall decorated with light-and dark grey vertical stripes wallpaper from Flamant, between two lamps with light grey shades. Between these lamps I placed my private gallery with different types of frame. They fit all together of course! The photos are only in black and white. As background I placed a very important painting for me, it's a Donald Duck painted almost only in black and white in a thin black frame. It's painted by a German, Edmund Becker. He lives in New York now .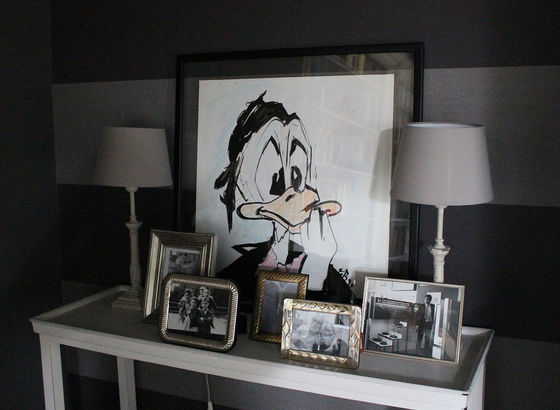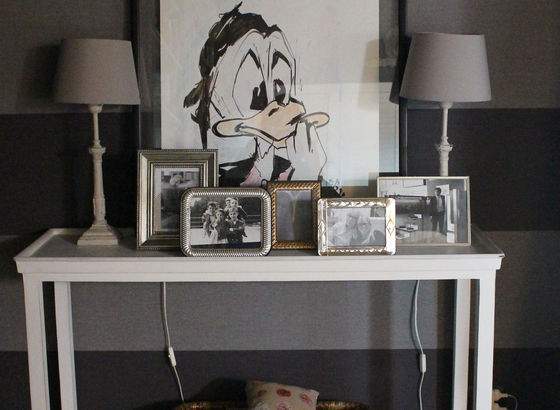 Some ideas for your private photo-gallery:
If you love the elegant version, choose black and white photos. It will become very nice if you use white passepartout and different frames but absolutely grey; this color will create a connection among all the photos.
Looking for cute photos:
Search in old photo boxes to find family treasures like your grandmother on a dancing floor smiling and moving happily, your husband standing hard like a salted codfish in his confirmation suit or the whole family at the beach on holidays some years ago. Do you remember? You can also print colored photos in black and white. If you use only black and white photos your gallery will look very elegant.
Connect the elements together:
Visiting flea markets, do-it-yourself-shops, Ikea etc. you can find so many different types of frame (small, big, simple and very important). After collecting enough for your gallery, paint all frames in dark grey. This makes them uniform and elegant. If the frames are different and also are their colors, the whole will look very heavy and the photos will lose their importance.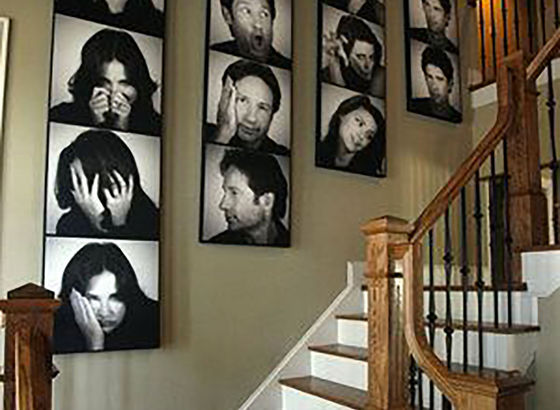 Find the right "partner":
Once you have enough photos and all the frames are ready, sit on the floor and start your "puzzle". Choose the right frame for your photos and place them on the floor as they were on the wall. It's your taste that matters! Have you found the right order? Sign it on a piece of paper because you will need it later.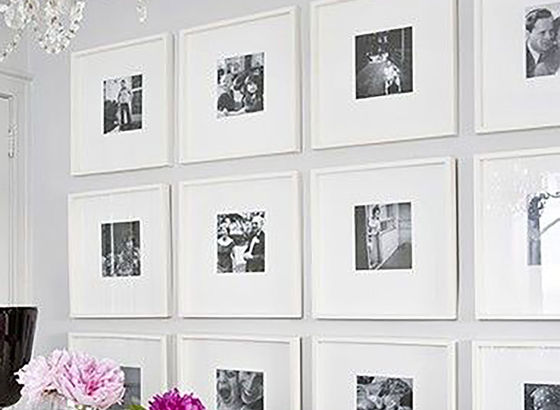 Be flexible:
If you would like to do it very professional, for the next idea you have to go to a frame-maker and let him cut the passepartout. In this way you don't have always to place the photo in the middle of the passepartout, you can change its position from up to down, right to left, as you prefer. Your gallery will look more modern.
Create harmony:
Take your notes about the way you have decided to hang your photos. From up to down the lines create harmony. The different sizes of your photos and their frames make the lines more interesting. You created tension but in this case is good for your family that is safe in its frames!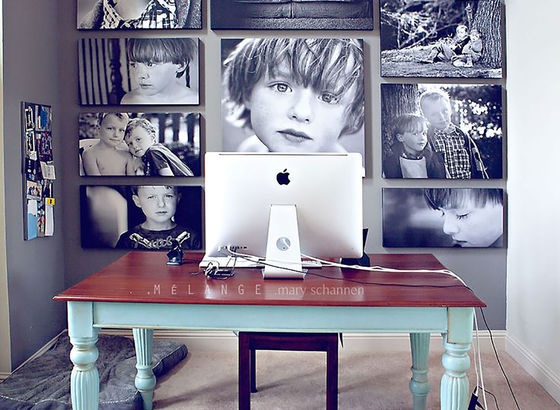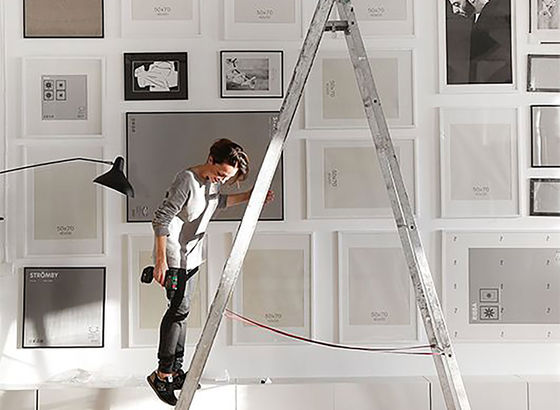 Hang the frames near to each other. In this way they are tidy but also modern. If you love placing letters or objects on your frames you are free to do it, but attention! Keep in the range of the colors you have used. Your decorations will immediately catch everybody's attention.
In my next article I am going to tell you some more secrets about exposing your photo gallery. I'm sure you will start "playing" with your photos.
I await you for the second part!
on
2015-05-11
know that in our time when I-phone, I-pad, digital cameras and computers can do anything, many of us don't print and expose family and friends photos any more . Why not?
94
2145
107
-
no
16
Exhibition of family and friends photos – An old fashion habit? Part 1
creation
2016-07-26 09:43:12
{"testo":"

Exhibition of family and friends photos – An old fashion habit? Part 1

\r\n

\r\n

As usual…. to see better "click" on the photos!

\r\n

\r\n

After all the renovation works I did in my house, changing wall colors and wallpapers everywhere, I got the wish to create different decorations in some little corners. In this case: to expose my photos here and there.

\r\n

\r\n

PHOTO2147 PHOTO2148

\r\n

\r\n

I know that in our time when I-phone, I-pad, digital cameras and computers can do anything, many of us don't print and expose family and friends photos any more . Why not? You don't have do it like in the past, when you used to put a mix of many pictures without sense, but it works only when you create a mood board with your concert tickets, words written by a friend on a piece of paper, memories .....I mean something very personal and therefore very nice. According to me in your living-room or in your bedroom this exposition can look like a mess.

\r\n

I exposed my new photo-collection on a little white furniture in face of a wall decorated with light-and dark grey vertical stripes wallpaper from Flamant, between two lamps with light grey shades. Between these lamps I placed my private gallery with different types of frame. They fit all together of course! The photos are only in black and white. As background I placed a very important painting for me, it's a Donald Duck painted almost only in black and white in a thin black frame. It's painted by a German, Edmund Becker. He lives in New York now .

\r\n

\r\n

PHOTO2145 PHOTO2146

\r\n

\r\n

Some ideas for your private photo-gallery:

\r\n

If you love the elegant version, choose black and white photos. It will become very nice if you use white passepartout and different frames but absolutely grey; this color will create a connection among all the photos.

\r\n

\r\n

Looking for cute photos:

\r\n

Search in old photo boxes to find family treasures like your grandmother on a dancing floor smiling and moving happily, your husband standing hard like a salted codfish in his confirmation suit or the whole family at the beach on holidays some years ago. Do you remember? You can also print colored photos in black and white. If you use only black and white photos your gallery will look very elegant.

\r\n

Connect the elements together:
Visiting flea markets, do-it-yourself-shops, Ikea etc. you can find so many different types of frame (small, big, simple and very important). After collecting enough for your gallery, paint all frames in dark grey. This makes them uniform and elegant. If the frames are different and also are their colors, the whole will look very heavy and the photos will lose their importance.

\r\n

\r\n

PHOTO2153 PHOTO2154

\r\n

\r\n

Find the right "partner":
Once you have enough photos and all the frames are ready, sit on the floor and start your "puzzle". Choose the right frame for your photos and place them on the floor as they were on the wall. It's your taste that matters! Have you found the right order? Sign it on a piece of paper because you will need it later.

\r\n

\r\n

PHOTO2149 PHOTO2150

\r\n

\r\n

Be flexible:
If you would like to do it very professional, for the next idea you have to go to a frame-maker and let him cut the passepartout. In this way you don't have always to place the photo in the middle of the passepartout, you can change its position from up to down, right to left, as you prefer. Your gallery will look more modern.

\r\n

Create harmony:
Take your notes about the way you have decided to hang your photos. From up to down the lines create harmony. The different sizes of your photos and their frames make the lines more interesting. You created tension but in this case is good for your family that is safe in its frames!

\r\n

\r\n

PHOTO2151 PHOTO2152

\r\n

\r\n

Hang the frames near to each other. In this way they are tidy but also modern. If you love placing letters or objects on your frames you are free to do it, but attention! Keep in the range of the colors you have used. Your decorations will immediately catch everybody's attention.

\r\n

In my next article I am going to tell you some more secrets about exposing your photo gallery. I'm sure you will start "playing" with your photos.

\r\n

I await you for the second part!

","titolo":"Exhibition of family and friends photos – An old fashion habit? Part 1","abstract":" know that in our time when I-phone, I-pad, digital cameras and computers can do anything, many of us don't print and expose family and friends photos any more . Why not? "}