Advent Calendar
As usual…. to see better "click" on the photos!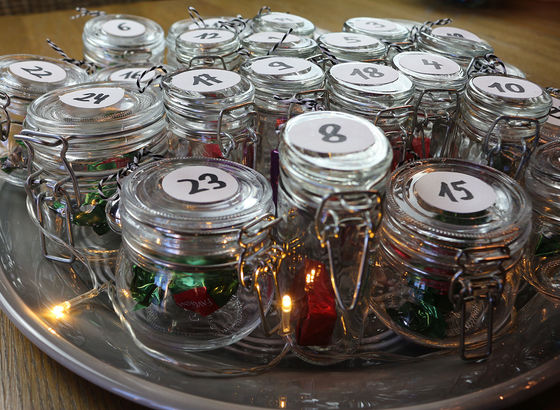 Material:
tray (Maison du Monde)
24 little jars (Ikea)
some chocolate, little samples of perfume etc.
numbers (paper, pen, circle cutter)
decorations
chain of little lights
I love counting the days before Christmas and for that reason I love the Advent Calendar. I've prepared mine for my husband this year! It's a tray with little jars and a surprise (up to you what you want to put inside). My husband loves chocolate and therefore I've prepared all jars with little chocolate bars.
Take also a look at: "Advent Calendar: not only for children's happiness"!
Follow the instructions of the video step by step and you will be able to copy it easily!
If you love this video and the article don't forget to subscribe to my channel and for the newsletter on my website!
To see all the videos "Christmas" from last year take a look at the playlist and the articles!
Goodbye my beautiful friends!
Advent Calendar
natale
2017-12-13 08:57:57
https://youtu.be/B6wmO5Lg0Ss
2710
{"testo":"

\r\n

Advent Calendar

\r\n

\r\n

As usual…. to see better "click" on the photos!

\r\n

\r\n

PHOTO2710 PHOTO2711

\r\n

\r\n

\r\n

Material:

\r\n

tray (Maison du Monde)

\r\n

24 little jars (Ikea)

\r\n

some chocolate, little samples of perfume etc.

\r\n

numbers (paper, pen, circle cutter)

\r\n

decorations

\r\n

chain of little lights

\r\n

\r\n

I love counting the days before Christmas and for that reason I love the Advent Calendar. I've prepared mine for my husband this year! It's a tray with little jars and a surprise (up to you what you want to put inside). My husband loves chocolate and therefore I've prepared all jars with little chocolate bars.

\r\n

\r\n

Take also a look at: "Advent Calendar: not only for children's happiness"!

\r\n

\r\n

Follow the instructions of the video step by step and you will be able to copy it easily!

\r\n

\r\n

If you love this video and the article don't forget to subscribe to my channel and for the newsletter on my website!

\r\n

\r\n

To see all the videos "Christmas" from last year take a look at the playlist and the articles!

\r\n

\r\n

Goodbye my beautiful friends!

\r\n

","titolo":"Advent Calendar"}
2016-11-26
1
1
204
creation
on
no