no
The nostalgia is the feeling that will inspire the coming season
98
-
2015-12-17 17:23:33
78
blog
The trends 2015 "Ambiente" Frankfurt
As usual…. to see better "click" on the photos!

Another year has passed by and here we are once again observing the new trends for 2015.
The nostalgia is the feeling that will inspire the coming season. Dreams, idealized images, personal belongings and emotions play such an important role that the sentimentality has been chosen as the leitmotif for Ambiente 2015, influencing not only colors and shapes, but also materials and processing techniques.
Let us have a look of the four main trends for 2015:
Clarity + lightness: design in all its simplicity
Pure and simple, with a touch of the romantic, this style provides a feeling of freedom and lightness. Light blue, lime green and gentle wood tones harmonies with unobtrusive nuances of white and grey. Fine material and delicate designs are sensitively combined: anything that is overloaded and exaggerated is alien to this poetic trend. A love of simple design goes hand in hand with the refined elegance of the material and surfaces: moving structures typify this look with fine reliefs, open work and fine-mesh weaves. Textiles nostalgically interpreted to include pleats, trucks and lace match up with fine wood grans and romantic blossoms and tendrils. To match this soft colour palette come fragile glass – finely chased, frosted or with a metallic coating and a coll sheen.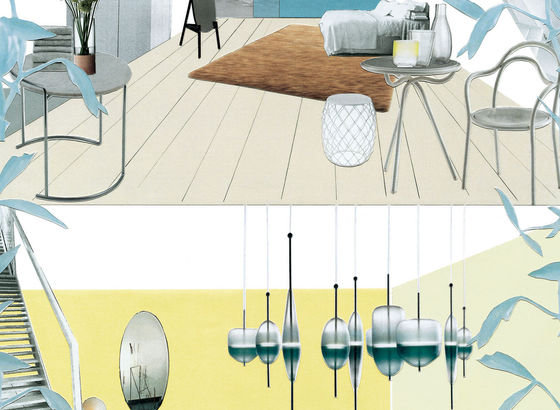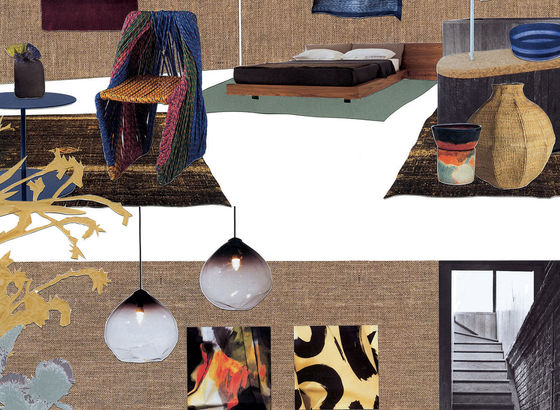 Craft + culture: living tradition
A return to one's roots leads to a greater appreciation of traditional materials, forms and processes of manufacture Experimental mixes provide the theme for the fusion of cultures and the blending of traditional and modern production techniques. Carpet and textile art, ceramics, basket weaving, artistic paintwork and unusual haptics are the inspiration behind the imaginative design. Irregularities and deliberate imperfections reveal themselves in intense shades of camomile yellow, tourmaline, claret, indigo and rust-brown. Vivid blends and gradients of color are further enhanced by powerful brushstroke designs. These are joined by expressive textiles set with fringes and a striking woven look, vivid embroideries with abstract graphical patterns and a folkloristic touch, as well as carpets with tufted textile surfaces with varying pile depths. Porous, sandy ceramics, strongly grained woods and material such as sisal, raffia, rattan and canvas emphasize the affinity with nature.
History + elegance: exquisite luxury
Citations from history and luxurious materials are the starting point for modern designs that are full of elegance and passion. The urge to explore the world of fantasy and mysticism is celebrated in shades of dark mahogany, midnight blue and caviar black, with rosé, shimmering pearl and a glittering bronze providing theatrical color accents. The finest materials with sensuous surfaces and a decorative patina provide that touch of opulence and glamour artistically staged and polished, veined marble joins up with dark varnished wood. Impressive are the finely facetted metals or geometric relief motifs. Along with cast iron or aluminum with the look of cast iron, the spotlight is on copper, bronze, brass and chrome, either in a high-gloss, matt or hammered finish. Wooden panelling in a traditional look turns out in fact to be thermo-shaped jersey laminate. The luxury look is rounded off with traditionally figured porcelain, soft leather, velvet and chenille.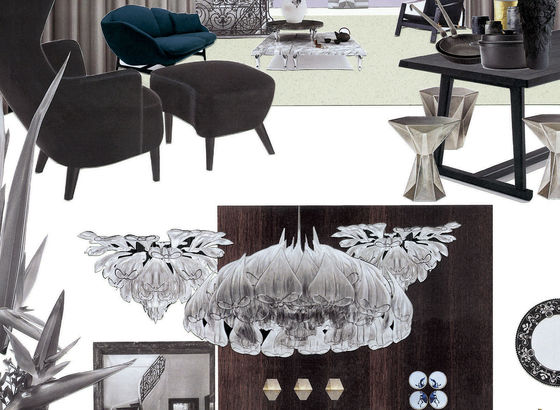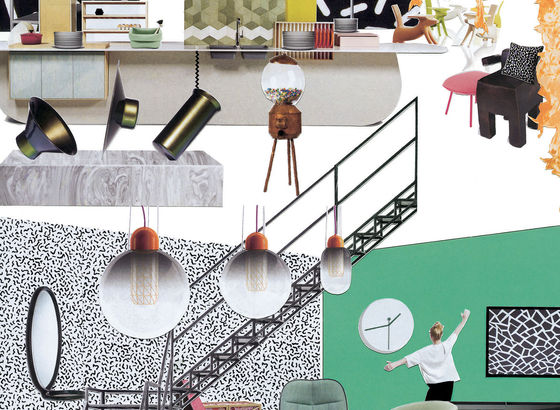 Humour + curiosity: a note of carefree optimism
The playful insouciance of childhood is the inspiration behind this optimistic design trend which greets everyday lift with a smile. A bold farrago of colors such as int, orange, rosé, nougat and graphite joins up with unusual materials and a straightforward variety of forms. The design credo is "humor", with unorthodox solutions providing surprises of a very special kind: A look of spontaneity for all those with a penchant for the offbeat, the outlandish and the scurrilous. Moving multi-color effects rub shoulders with monochrome surfaces in matt or hight-glass . Mirror foil and iridescent surfaces from a contrast with dull rubber, silicone, fleece, foam and recycled plastic. As an expression of joie de vivre, motifs, lettering and graffiti receive a generous amount of space
The theme of the "Ambiente" is very rich, emotional and striking and so is the nostalgia that is reflected in the variety of products offered at the fair in an interesting and innovative way.
Source: Stilbüro bora.herke.palmisano in order to Ambiente, Frankfurt
14
The trends 2015 "Ambiente" Frankfurt
on
2015-02-23
{"testo":"

The trends 2015 "Ambiente" Frankfurt

\r\n

\r\n

As usual…. to see better "click" on the photos!

\r\n


Another year has passed by and here we are once again observing the new trends for 2015.
The nostalgia is the feeling that will inspire the coming season. Dreams, idealized images, personal belongings and emotions play such an important role that the sentimentality has been chosen as the leitmotif for Ambiente 2015, influencing not only colors and shapes, but also materials and processing techniques.
Let us have a look of the four main trends for 2015:

\r\n

Clarity + lightness: design in all its simplicity

\r\n

Pure and simple, with a touch of the romantic, this style provides a feeling of freedom and lightness. Light blue, lime green and gentle wood tones harmonies with unobtrusive nuances of white and grey. Fine material and delicate designs are sensitively combined: anything that is overloaded and exaggerated is alien to this poetic trend. A love of simple design goes hand in hand with the refined elegance of the material and surfaces: moving structures typify this look with fine reliefs, open work and fine-mesh weaves. Textiles nostalgically interpreted to include pleats, trucks and lace match up with fine wood grans and romantic blossoms and tendrils. To match this soft colour palette come fragile glass – finely chased, frosted or with a metallic coating and a coll sheen.

\r\n

\r\n

PHOTO2024 PHOTO2025

\r\n

\r\n

Craft + culture: living tradition

\r\n

A return to one's roots leads to a greater appreciation of traditional materials, forms and processes of manufacture Experimental mixes provide the theme for the fusion of cultures and the blending of traditional and modern production techniques. Carpet and textile art, ceramics, basket weaving, artistic paintwork and unusual haptics are the inspiration behind the imaginative design. Irregularities and deliberate imperfections reveal themselves in intense shades of camomile yellow, tourmaline, claret, indigo and rust-brown. Vivid blends and gradients of color are further enhanced by powerful brushstroke designs. These are joined by expressive textiles set with fringes and a striking woven look, vivid embroideries with abstract graphical patterns and a folkloristic touch, as well as carpets with tufted textile surfaces with varying pile depths. Porous, sandy ceramics, strongly grained woods and material such as sisal, raffia, rattan and canvas emphasize the affinity with nature.

\r\n

History + elegance: exquisite luxury

\r\n

Citations from history and luxurious materials are the starting point for modern designs that are full of elegance and passion. The urge to explore the world of fantasy and mysticism is celebrated in shades of dark mahogany, midnight blue and caviar black, with rosé, shimmering pearl and a glittering bronze providing theatrical color accents. The finest materials with sensuous surfaces and a decorative patina provide that touch of opulence and glamour artistically staged and polished, veined marble joins up with dark varnished wood. Impressive are the finely facetted metals or geometric relief motifs. Along with cast iron or aluminum with the look of cast iron, the spotlight is on copper, bronze, brass and chrome, either in a high-gloss, matt or hammered finish. Wooden panelling in a traditional look turns out in fact to be thermo-shaped jersey laminate. The luxury look is rounded off with traditionally figured porcelain, soft leather, velvet and chenille.

\r\n

\r\n

PHOTO2027 PHOTO2028

\r\n

\r\n

Humour + curiosity: a note of carefree optimism

\r\n

The playful insouciance of childhood is the inspiration behind this optimistic design trend which greets everyday lift with a smile. A bold farrago of colors such as int, orange, rosé, nougat and graphite joins up with unusual materials and a straightforward variety of forms. The design credo is "humor", with unorthodox solutions providing surprises of a very special kind: A look of spontaneity for all those with a penchant for the offbeat, the outlandish and the scurrilous. Moving multi-color effects rub shoulders with monochrome surfaces in matt or hight-glass . Mirror foil and iridescent surfaces from a contrast with dull rubber, silicone, fleece, foam and recycled plastic. As an expression of joie de vivre, motifs, lettering and graffiti receive a generous amount of space

\r\n

The theme of the "Ambiente" is very rich, emotional and striking and so is the nostalgia that is reflected in the variety of products offered at the fair in an interesting and innovative way.

\r\n

Source: Stilbüro bora.herke.palmisano in order to Ambiente, Frankfurt

\r\n

\r\n

","abstract":"The nostalgia is the feeling that will inspire the coming season","titolo":"The trends 2015 "Ambiente" Frankfurt"}
2027